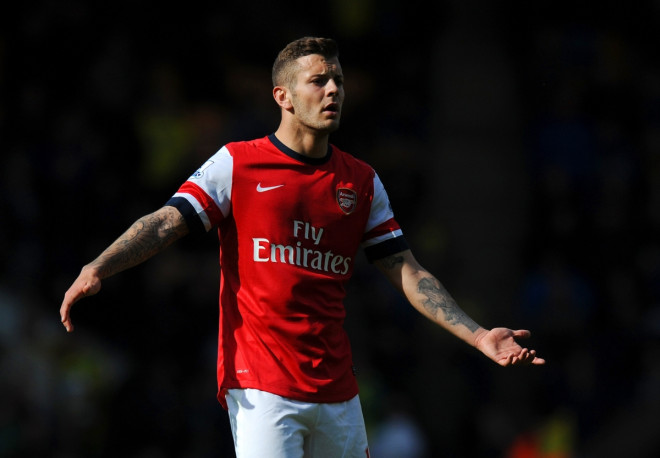 Arsenal midfielder Jack Wilshere has taken advice from Paul Scholes after being criticised by the former Manchester United star earlier this season.
Scholes claimed Wilshere had failed to improve since the early years of his career and added that Arsenal lacked genuine leaders.
Wilshere has been out since early March with a broken foot but after a cameo appearance against Norwich City, the England international is set for a full return in the FA Cup final against Hull City.
And during his rehabilitation from the injury, Wilshere has revealed he sought out Scholes over his comments.
"It was a bit strange," the 22 year old said. "It was out of the blue wasn't it? I remember watching it and he was having a go at Arsenal and I wondered 'is he going to come for me?'
"I actually spoke to him afterwards and he's entitled to his opinion. I just wanted to know, if it had come from a s**t footballer, I could say 'what are you talking about?'
"But it was from Paul Scholes and I wanted to get to the bottom of it. I spoke to him and he explained it a bit better and explained what I should work on. For me he's the best midfielder of all time.
"He said to me that when I first burst onto the scene and there was lots of hype and I've had bad luck with injuries but I can't keep saying 'I've been injured a lot, I've been injured a lot.'
"There comes a time when you stop being a kid and I think that's what he was referring to. You stop saying 'he's young, he's got all this potential', you have to start delivering that potential and I think this season I've improved a lot.
"You can keep the ball and look good but it's the stats that matter at the end of the day and that's what I wanted to improve."
Having not played since England's friendly win over Denmark in early March after suffering a foot injury in a tackle with Daniel Agger, fears were rife over Wilshere's participation in both this weekend's showcase final at Wembley and the summer's World Cup finals.
But a 27-minute cameo appearance in the 2-0 win over Norwich on the final day of the season was enough to convince England manager Roy Hodgson to include the Arsenal man in his 23-man squad for Brazil.
Despite having to undergo several weeks of rehabilitation after his recovery, Wilshere admits he was never concerned over missing the FA Cup final or the World Cup.
"No I wasn't [worried about coming back before the end of the season]," he added. "It was a bit touch and go when I done it.
"I knew it would take six weeks to heel and then a couple of weeks to try and get fit. I knew that [in that] couple of weeks [it] was important that I worked hard and I got back.
"I know what it's like to come back, I know it takes a few games and the first game you've got to take it easy and get a feel for it. I felt good.
"When I first done it I wasn't thinking of the FA Cup final or the World Cup. I was just thinking 'try and get back for the last few games of the season and then the World Cup.'
"Yeah there were times [you worry] because obviously you want to be back playing and you're in the manager's thoughts.
"When you don't get in the squad against Newcastle I was thinking I didn't know what was going to happen. I spoke with the manager and we agreed that instead of sitting on the bench that I got a couple of weeks' training and see if I feel good, and I am ready."