Arsenal star Mesut Ozil pinpoints hard work as the reason for this season's injury troubles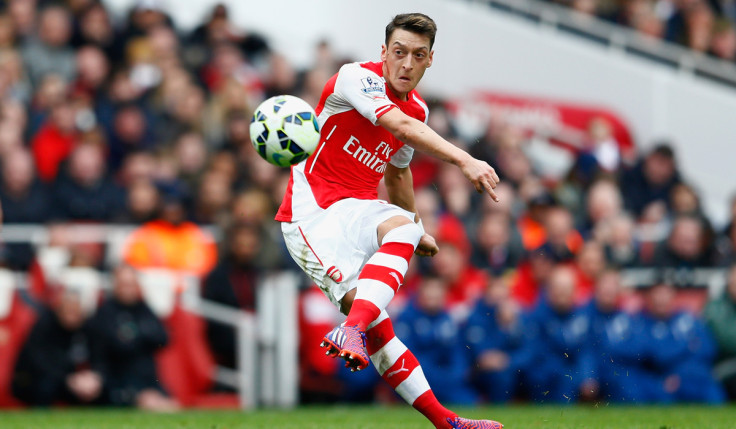 Arsenal midfielder Mesut Ozil has revealed that his long-term knee injury that saw him miss up to three months this season was due to his hard work during training and on the pitch during games.
The German international damaged knee ligaments during the Gunners' 2-0 loss to Chelsea in October last year and only returned to action in January.
Ozil has had a difficult start to life in England and came under criticism last season for not living up to his £42m price tag, following which he was off with the national team for the World Cup and then back at the club for pre-season albeit after a short holiday.
This lack of breathing time, especially since the Premier League does not have a winter break like the other big leagues around Europe, makes it harder for the players to recover in between international and domestic commitments, which leads to fatigue and eventually injury.
"Here, the season is very long and with many games. You have to play in midweek too and without a winter break," Ozil said, as quoted by the Daily Mail.
"As a player, that's something you have to get used to. In my first season, not having a winter breaks meant that I could notice my body becoming a bit tired."
"I had the World Cup after my first season here. It was such a great time but when I came back, the fitness coach said that even though I felt fit, the freshness was missing. I continued to give everything to help the team and that's how I got my injury," the World Cup winning midfielder explained.
However, despite missing a crucial part of the campaign the German midfielder returned to action rejuvenated and has been a key player in Arsenal's end of season run, which saw them finish third in the Premier League and make the finals of the FA Cup for the second season in a row.
"That was a really bitter time because I missed football but it's an experience you have to go through as a player. My aim was always to come back stronger and, thanks to God, everything worked out," the former Real Madrid star added.
© Copyright IBTimes 2023. All rights reserved.