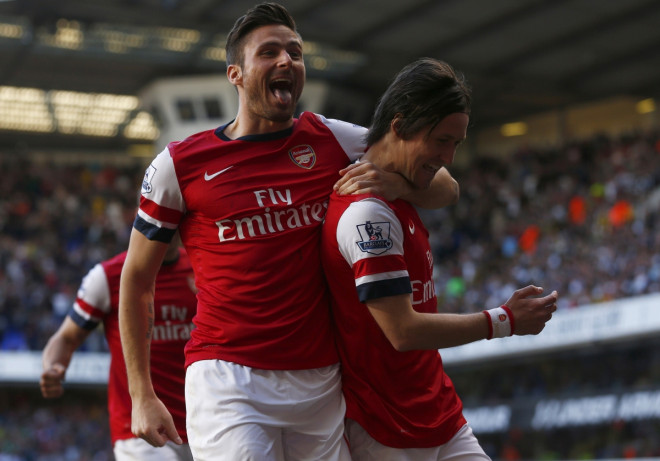 Arsenal playmaker Thomas Rosicky believes the number of injuries they have had in the second part of the season cannot be used to explain the club's recent slump – and must not be used as an excuse if the Gunners lose their FA Cup semi-final to Wigan.
Arsene Wenger's side led the league table for more than four months but after a bad run of results they are currently fourth, and could even miss out on Champions League football should Everton win their remaining six games.
And having also been knocked out by Bayern Munich in Champions League last 16, Arsenal's only chance of putting an end to a nine-year trophy drought will be winning the FA Cup.
Aaron Ramsey is likely to make his long-awaited return to the starting line-up for the clash against Wigan but Mesut Ozil, Jack Wilshere and Theo Walcott remain on the sidelines.
However, Rosicky believes the number of injuries cannot be used as a defence for the poor results which have derailed Arsenal's title challenge.
"We would love to have everyone back - we don't have Mesut, Jack Wilshere or Theo Walcott," Rosicky told Arsenal's official website.
"On the other side it's not about personnel only, because Mesut and Jack played when we lost at Manchester City and Liverpool so it's not like we missed one or two guys and we're not competitive any more.
"It's about the mistakes which we are making as a team and not single players who are not available at the moment. Of course we would love to have them back, there's no doubt about that."
The Czech midfielder also expressed confidence about winning the FA Cup this season, as it would be a huge boost for the young players that are yet to win a trophy.
"It would be a big lift for everyone because you still have a lot of players here who don't know how it feels to win a trophy," he said.
"Mainly the guys who are coming through like Jack, Aaron and all these boys. They don't know how success tastes, so it is a massive chance for us to win a trophy this year. It would be a building block for these boys."