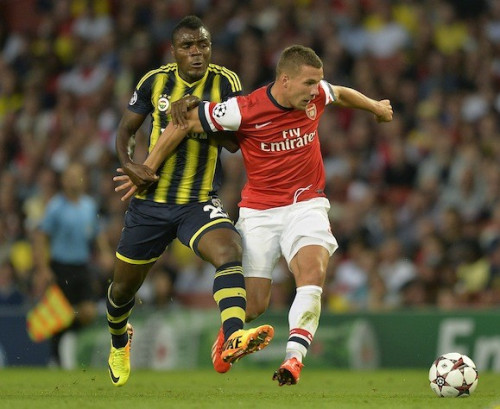 Arsenal striker Lukas Podolski has joked he would prefer to retire than sign for rivals Tottenham Hotspur.
Podolski is currently on the comeback trail after a hamstring tear and the forward was asked on Twitter if he would ever consider signing for Spurs.
Despite having not won a major trophy since 2005, Arsenal have held the upper hand over their north London rivals domestically and Podolski has sought to stick the knife in on Tottenham.
When the fan asked, "if you had a choice would you rather play for Tottenham or retire?" Podolski responded: "Retire".
Seven players have crossed the divide to Tottenham after playing for Arsenal, the most recent of which was Emmanuel Adebayor, who moved to White Hart Lane after a short spell at Manchester City.
In all, 15 players have played for both clubs including David Bentley, William Gallas, Pat Jennings and Sol Campbell and recent moves between both Arsenal and Tottenham have been met with plenty of animosity.
Campbell's free transfer in 2001 sparked the most furore with Tottenham having been his boyhood club went on to achieve major success with Arsenal, while Adebayor's recent switch away from Arsenal was received similarly
Adebyor did little to improve relations between himself and Arsenal fans when he celebrated in front of travelling fans during his spell at City, an act which earned him an FA charge.
On this occasion, Arsenal supporters can take comfort from the fact that they won't lose one of their most loved players to Daniel Levy with Podolski very much settled at the Emirates.