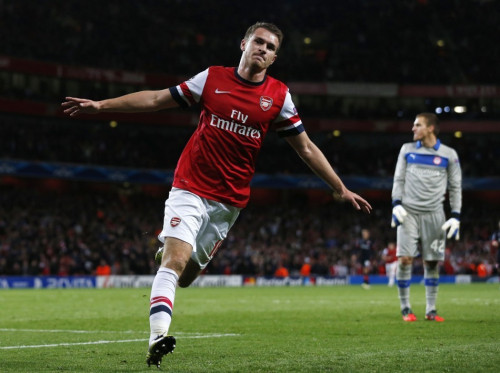 Arsenal have suffered a major setback in the form of Aaron Ramsey, who is expected to be out for a further four to six weeks with a muscle injury, according to Goal.com.
Arsenal's best player this season, Ramsey scored eight goals and assisted six in the league, but has been unavailable since the Gunners' 3-1 win over West Ham where he was taken off the field after a thigh strain.
The north London club have managed to cope well during his departure, winning seven games on the trot in all competitions before their 2-2 draw against Southampton at the St. Mary's , dropping two crucial points in the race for the top spot.
The Gunners will drop into third if Chelsea and Manchester City win their respective games against West Ham and Tottenham, leaving Arsene Wenger's side with some catching up to do.
The Gunners have a series of injury and suspension worries in the middle of the park, with Jack Wilshere and Tomas Rosicky out with knocks while Mathieu Flamini is suspended for their next four games after being shown a straight red for his tackle during the final minutes of the game.
Arsene Wenger confirmed that the Welshman has had a setback but is unsure about the extent of his injury which will only be revealed in the next few days.
"Aaron Ramsey is out for longer than we expected because he had a little setback in training yesterday. So I couldn't bring him here. It's the same muscle he did a bit again so we have to be cautious this time," Wenger told www.arsenal.com.
On their first half performance, he added," I don't want to look for any excuses. We played in second gear and Southampton were in fourth. They played at a higher pace than us, they decided to stop us from playing, they did it very well but it's difficult to maintain what they did for 90 minutes and during the season but they did it very well in the first half."