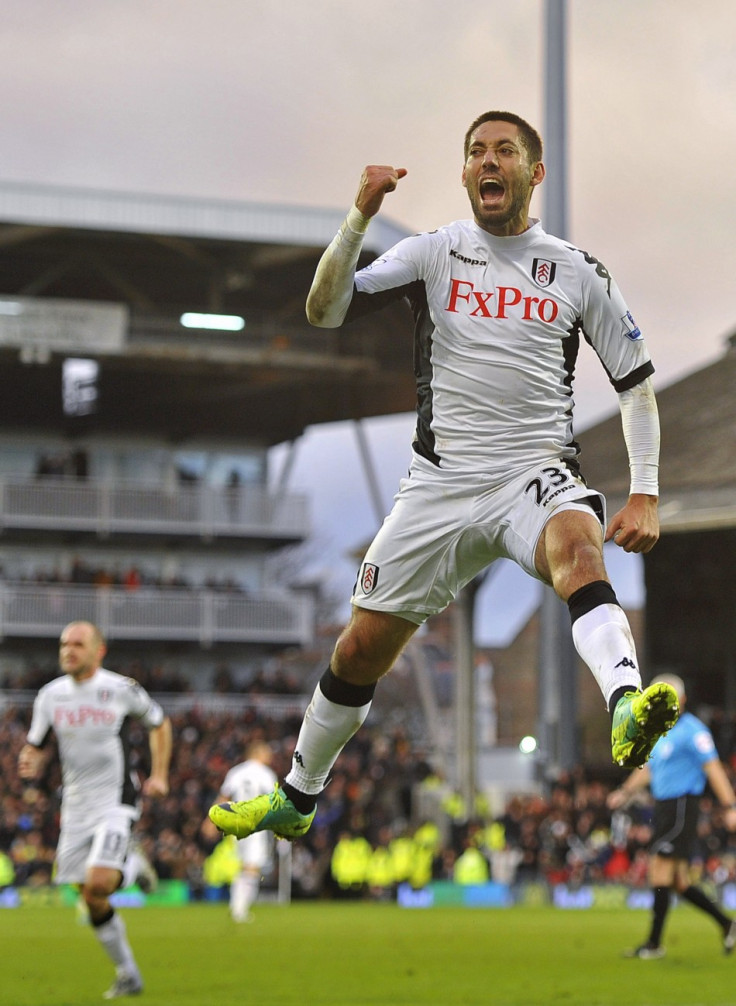 American forward Clint Dempsey has hinted at leaving Fulham this summer, saying he wants to participate in bigger competitions, including the Champions League.
Although the 29 year old forward, who helped the Cottagers finish in ninth in the Premier League this season, said he had some great moments at Craven Cottage, he wanted to move to get exposure at the highest level.
"I am grateful for everything Fulham have done for me, some of the best memories I have in soccer have been there, but the fact remains that I want to play in Champions League. I want to play at the highest level possible," said Dempsey, according to a Guardian report.
"I want to do as much as I can in my career and look back and say I made the most of all the opportunities I have had. I am always going to want to play in Champions League," The Independent quoted the United States forward as saying.
Dempsey's desire to move from Fulham will come as good news for Arsenal who are reportedly targeting the talented American. Dempsey has scored a total of 23 goals (in all competitions) for Fulham this seasom.
Meanwhile, big spending French outfits Paris Saint-Germain are also reportedly interested in the American forward but Dempsey said he did not care about baseless rumours unless someone really came forward and made an offer.
"I don't get caught up in that [speculation] because until somebody is putting down some money it doesn't matter. If teams are really interested, they need to put their money where their mouth is and make an offer," the Mirror quoted Dempsey as saying.
United States head coach Jurgen Klinsmann hopes Dempsey gets a chance to play in the Champions League with some big club next season. The former German striker, who is busy with his team's preparations for the friendly clash against Scotland on Saturday, feels the American forward deserves to play in the highest level.
"If he has the opportunity to go to a Champions League team, that's the crème de la crème of club soccer then you have to do that, with all the respect obviously to Fulham, as he often mentions. But you want to play in the biggest club competition in the world and that's the European Champions League and hopefully something will happen over the next couple of weeks," Reuters reported Klinsmann as saying.
Meanwhile, Fulham boss Martin Jol feels his side can be even better next season provided they keep their best players, including Dempsey.
"If all the players are still there, I believe we can do even better," said Jol, according to an Espnstar report.