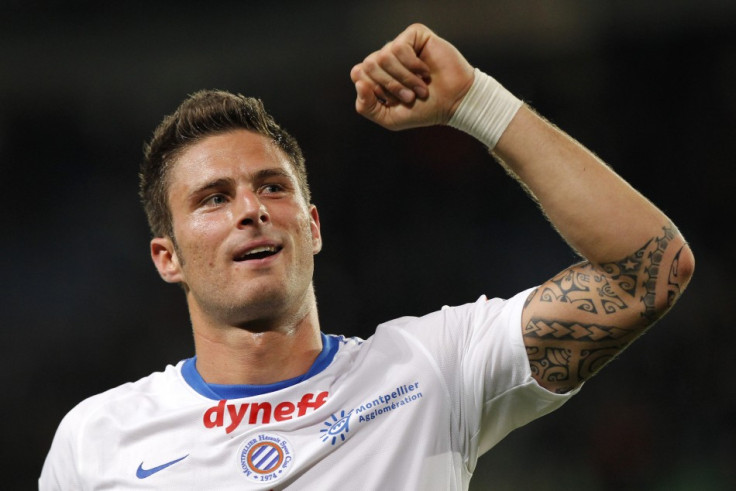 Amidst all the chaos of van Persie's future and Lille playmaker Eden Hazard rejecting a move to the Emirates, there is some good news for Arsenal after French club Montpellier president Louis Nicollin has confirmed that Olivier Giroud and Mapou Yanga-Mbiwa will be open for bids this summer, according to an ESPN report.
Although, French defender Mapou Yanga-Mbiwa has stated his desire to move to Premier League giants Manchester United, the Gunners will be more interested in French striker Olivier Giroud, who has been on Arsenal's radar for quite some time.
However, both Yanga-Mbiwa as well as Giroud, who are currently preparing with France for the 2012 Euros, are being targeted by several other clubs, having helped Montpellier to their first ever Ligue 1 title win this season.
Montpellier boss Louis Nicollin, who is the main reason behind the French club's success this season, says that apart from Giroud and Yanga-Mbiwa no one's going to leave Stade de la Mosson this summer.
"The only one who can leave, it's Olivier Giroud, because he has a clause. Then there is Mapou too, because we promised we would let him go if there was a good offer. But these are the only two who could leave and it is not yet certain that they are going," ESPN quoted Giroud as saying.
The 25-year-old striker had earlier reportedly been keen on making a move to German outfits Bayern Munich. However, after the Bavarians made a successful move for Peruvian striker Claudio Pizarro, Giroud now may be open to make a move to the Emirates.
Apart from Giroud, Arsenal boss Arsene Wenger is also reportedly looking to sign Athletic Bilbao striker Fernando Llorente, according to a Daily Mail report.
Although the 27-year-old Spaniard, who still has a year left in his Bilbao contract, is reportedly keen on making a move to the Premier League, interested clubs will have to be ready to fork out at least £28million due to the buy-out clause on his contract.
Llorente, who has been nicknamed El Rey León (The Lion King) in Spain, has scored a total of 29 goals from 56 appearances for Athletic Bilbao this season.