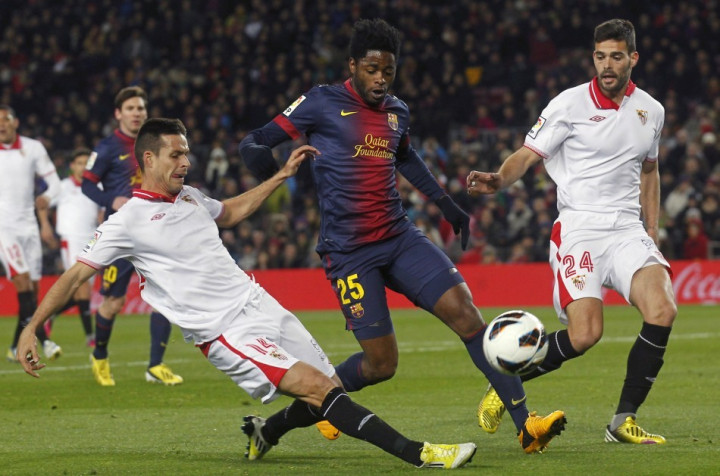 Arsenal have received a major boost in re-signing Alex Song in January after the Barcelona midfielder hinted a move to the Emirates in the mid-season transfer window could be on the cards.
The Cameroon international left the north London club and completed his move to Camp Nou in the summer of 2013. Since his move to Spain, Song has failed to cement a place in Barcelona's starting lineup, with Sergio Busquets being preferred ahead of him in the defensive midfield position.
Arsenal were believed to be interested in landing Song in the summer, but no deal took shape. According to Spanish publication Sport, the Gunners and the Premier League champions Manchester United are believed to be interested in signing the midfielder in January.
"Get out of Barcelona? No. I'm think of staying. We have a new coach with a system of effective rotations. I have until January to decide, but I'm not thinking about leaving. I'm here to work," Song told RMC.
"I do not know what will happen in the future, but it is true that I spent some fantastic seasons there [with Arsenal]. We will see what happens, but for now I'm a Barcelona player."
Song has made 17 starts in La Liga in his debut season with the Spanish champions. In the current campaign, the former Arsenal midfielder has made three league starts under Barcelona's new manager Gerardo Martino.
Meanwhile, Arsenal striker Nicklas Bendtner has revealed his loan move during the last two seasons has helped him bring changes to his personal life and develop as a player. The Denmark international was at Sunderland and Juventus on loan in the last two years before returning to the Emirates in the summer.
"First of all I had a baby, which changed me a lot. I think a lot of people say that you have babies and they change you but for me I could really feel a big difference to my life," Bendtner told Arsenal's official website.
"Being abroad showed me a lot of different things and different aspects of how to live and how to cope with problems and things like that. I think that has given me a lot more as a man."