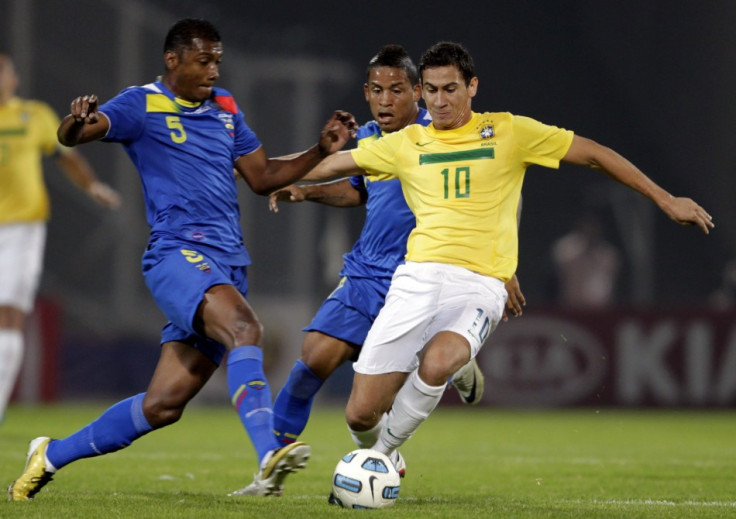 Arsenal are reportedly considering a move for Brazilian midfielder Paulo Henrique Ganso.
The 22 year old is understood to be unhappy with life at Santos and has expressed his wish for a new challenge. The Gunners' boss, Arsene Wenger, remains hopeful of persuading the playmaker to move to north London and has made him one of his top targets this summer, after missing out on his national team mate, Internacional midfielder Oscar, who looks Chelsea-bound, reports the Daily Mail. Ganso's representatives have been informed of Arsenal's interest and are now waiting for the club to make a formal offer for the player's services, according to the Metro.
Delcir Sonda, owner of the group which holds 55 percent of Ganso's market value, recently revealed the midfielder had, in fact, played his last game for the Sao-Paulo based club but might still stay in Brazil.
"This is definitive, Ganso won't play for Santos anymore. And yes, he may join Internacional. I am negotiating with Santos to buy his full rights. Ganso is upset with the club. They put together a project for Neymar but forgot about Ganso. He wants to leave but stay in Brazil for at least another year," ESPN quoted Sonda as saying.
Santos vice-president Odilio Rodrigues admitted defeat in the club's attempt to keep hold of Ganso and but also stated that potential suitors would have to meet his release clause if they plan to snap up the Brazil international.
"Ganso doesn't want to play for Santos anymore. We learned that from the club's president Luis Alvaro last Thursday. Ganso has lost his interest in Santos so we won't try to keep him anymore. However, we won't give up his buyout fee. Since Delcir Sonda and Ganso are interested [in a move] negotiations are open but the buyout fee has to be paid," Sky Sports quoted Rodrigues as saying.
Despite Ganso's recent lack of form and seeming desire to remain in his homeland, the news of the highly-rated Brazilian's proposed sale will put a number of Europe's biggest clubs on alert. Arsenal have already added Germany forward Lukas Podolski and France striker Olivier Giroud to their ranks this summer and Ganso's signing could be seen as something of a coup for Wenger.