£32m Striker Claims Arsenal Dragged Their Feet Over Move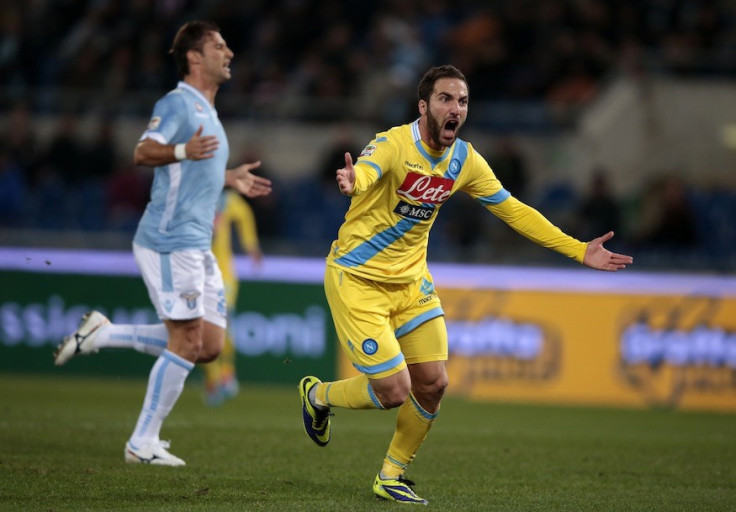 Napoli striker Gonzalo Higuain has revealed he chose a move to the Italian outfit in the summer because Arsenal took too much time to make their interest in the then-Real Madrid man serious.
Higuain was widely reported to be set for a move to the Gunners at the beginning of the summer with Madrid ready to sell the frontman. Publications speculated that a deal had been agreed to and the Agentine himself talked up the possibility of a move to the Emirates.
But an agreement never materialised and Napoli stepped in with £32m as they looked to replace the outgoing Edinson Cavani. Higuain has so far scored 10 goals in 16 appearances for the side and proven to be a successful purchase, and he says that they showed more commitment to getting his signature than Arsenal ever did.
When asked in the Times about whether he knew about Arsenal's interest, Higuain replied: "Yes, but I did not speak to them.
"They said Arsenal wanted to sign me, that they were there negotiating, but it was Napoli who bought me.
"They persuaded me with their conviction and I am very grateful to Napoli, to their president, too, for everything he has done for me, and for everything he did to buy me quickly. Knowing how much I was wanted gave me a lot of confidence."
Higuain also talked up Napoli manager Rafa Benitez, explaining that the Spaniard was one of the big factors behind his choice to move to Napoli.
"The manager [Rafa Benitez] spoke very well to me too," he said. "It is one of the reasons that convinced me to come. He is a sincere person, an honest person. The things he said have to remain between us, he made it a very easy decision."
Arsenal's failure to land Higuain led to the club turning their attentions to another unsettled Real Madrid man in Mesut Ozil. But the side are still in need of reinforcements up front with Olivier GIroud shouldering much of the burden to produce goals.
Reports have claimed that Wenger will re-enter the transfer market in January in the hopes of signing another striker but whether the manager will show faith in Nicklas Bendtner and wait until the summer remains to be seen.
© Copyright IBTimes 2023. All rights reserved.