Arsenal and Tottenham Hotspur are given a major boost in their pursuit to land Real Madrid star Gonzalo Higuain this summer.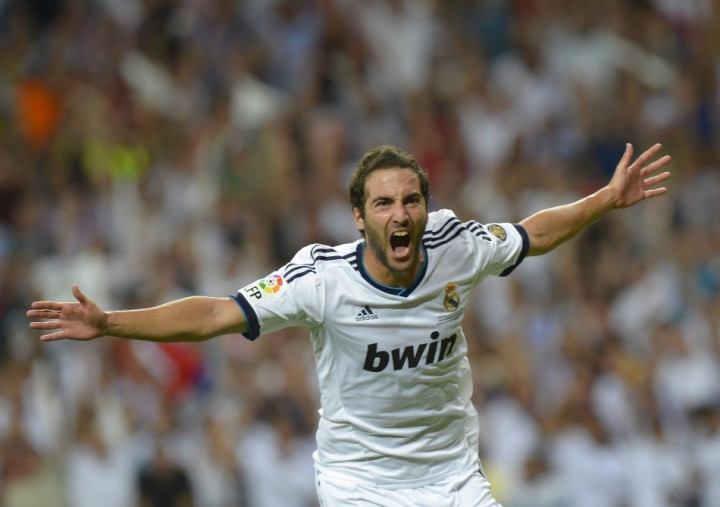 Arsenal and Tottenham have been encouraged in their reported pursuit of Real Madrid striker Gonzalo Higuain. The 25-year-old Argentine international is believed to be unhappy in the Spanish capital, after being forced to share first team duties with Frenchman Karim Benzema.
Higuain was speaking to reporters after Madrid's 5-1 weekend win over Levante, a match in which he scored an acrobatic volley, reminiscent of ex-Madrid star Zinedine Zidane's brilliant goal against Bayer Leverkusen in the final of the 2002 Champions League.
"This is not the time to talk about my contract renewal," Higuain stressed, when asked about his future, adding, "I am available to the club, but I will not say any more. This is not the time."
The forward has 12 goals and five assists from 21 La Liga games this season, to add to an impressive haul of 22 goals and seven assists from 35 league appearances. However, Madrid coach Jose Mourinho continues to follow a rotation policy up front, with Higuain and Benzema sharing striking responsibilities.
It appears the South American, who is contracted to Madrid till 2016, is now looking for regular first team football, probably ahead of the 2014 FIFA World Cup in Brazil, and is willing to leave the Bernabeu to make that happen.
Higuain to the Premier League
Higuain's comments are likely to put a number of top teams in England on alert. Manchester City, Arsenal, Spurs and Chelsea have all been linked to the Argentine in the past and all four clubs will definitely be looking to strengthen their sides in the summer transfer market. More importantly, all four sides are in need of top-class strikers, with, perhaps, Spurs and Chelsea the most likely destinations.
Andre Villas-Boas' options up front are severely limited and that has been exposed with the recent injuries to Jermain Defoe and Bale; this leaves only the mercurial ex-Arsenal, City and Madrid forward Emmanuel Adebayor. The Blues, meanwhile, do have £50m Fernando Torres and the ex-Liverpool player does appear to have found some sort of form but even so, that only leaves Senegal's Demba Ba as comeptition and cover.
City and Arsenal do have options up front, with Higuain's national team mates Sergio Aguero and Carlos Tevez leading the line at the Etihad (should the club show interest, it is likely the presence of Aguero and Tevez will give them an edge) and Olivier Giroud, Lukas Podolski and Theo Walcott available to Arsene Wenger at the Emirates.
However, such is Higuain's class - he has scored over 100 league goals in the cauldron of the Santiago Bernabeu from only 170-odd appearances - that any one of the four clubs will be happy to have him on board.