Real Madrid have re-valued Argentina striker Gonzalo Higuain at a staggering €40m (roughly £37m), according to The Times. The report will come as a shock for the Gunners' chiefs and fans, as the nine-time European champions continue to play hardball over the 25-year-old goal scorer.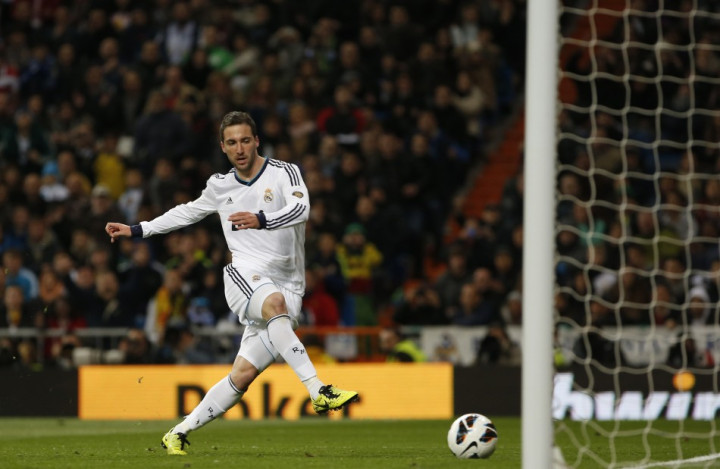 Higuain has been heavily linked with a switch to north London this summer and much has been made of his potential signing being the benchmark for a new and improved Arsenal assault on the summer transfer market.
Arsene Wenger has come under increasing pressure every year for failing to win trophies and retain his best players, the latter particularly in the face of his unwavering devotion to an extremely prudent financial policy.
And while the debate rages over the short/medium-term value of a youth-first policy, with regard to winning trophies consistently, the fact that domestic rivals like Manchester United, Chelsea and Manchester City are all ready and willing to spend large sums on signing established first team stars has not been lost on the Gunners' own players.
And neither has the fact that United, Chelsea and City have all won major trophies over the past couple of seasons, both in England and on the continent.
Arsenal midfielders Jack Wilshere and Mikel Arteta, while acknowledging the Emirates club does have a reasonably good squad, have joined the ranks of voices calling on their manager to spend significantly this summer.
Higuain, who has over 100 La Liga goals for the Santiago Bernabeu club since joining them in 2005, has been identified as a key transfer target in this window, as much for his value on the football pitch as a statement of title intent, both for existing first team players and fans.
Arsenal and Higuain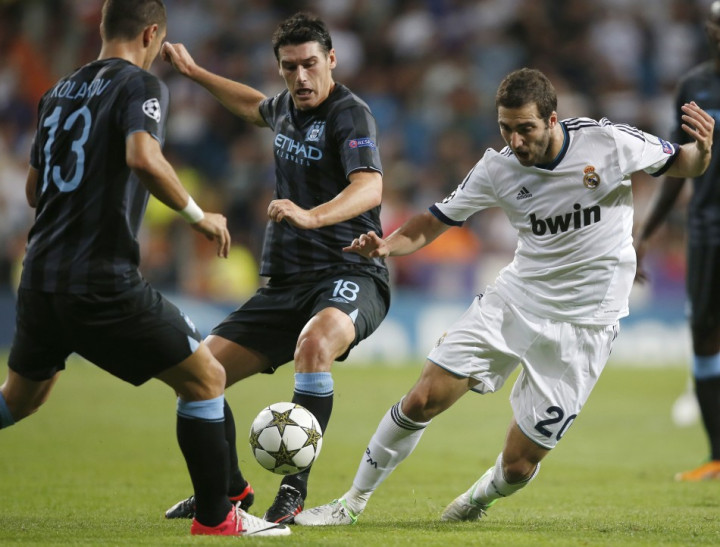 Negotiations over the transfer of the Argentine appeared to be going well, with the Guardian reporting earlier this month he was nearing a £23m transfer to north London, where he would sign a £100,000 per week three-year contract.
Since then though, Spanish newspaper AS has hinted at the possibility of both Higuain and the club breaking off talks with the Premier League side. It was reported the appointment of former AC Milan boss Carlo Ancelotti could persuade Higuain to re-evaluate his options.
It appears the Italian is delighted with the club's attacking options - Cristiano Ronaldo, Karim Benzema and Higuain - and is eager to not change the line-up. Instead, he has concentrated on strengthening his midfield, with the singing of Spanish youngsters Isco and Asier Illarramendi.
Higuain's agent, Ernesto Bronzetti, has confirmed Ancelotti's eagerness to retain Higuain. However, Marca believes the player himself is still reluctant to remain and club president Florentino Perez could step in personally to talk to him.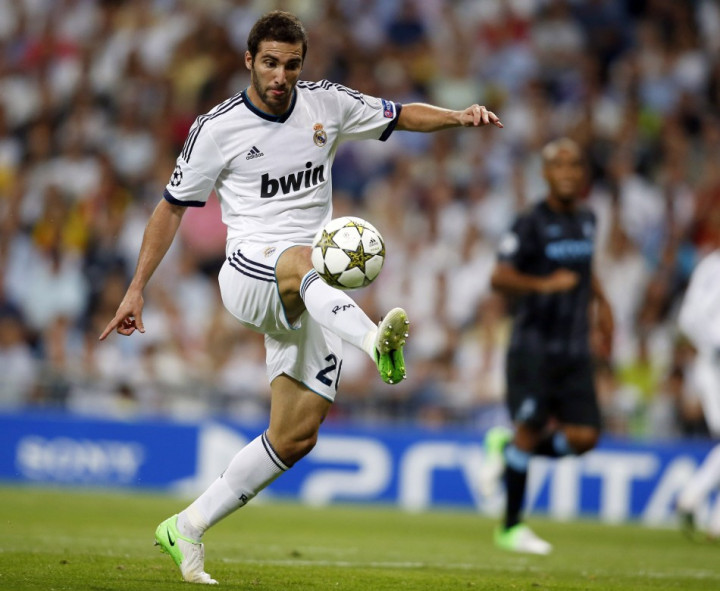 Napoli and Higuain
Meanwhile, while Madrid keep Arsenal at arm's length, Serie A side Napoli have been circling. Flush with a staggering amount of cash after the €64.5m from the sale of Edinson Cavani was added to an existing transfer budget of €60m, Rafael Benitez's side will have no problem matching Madrid's €37m demand or Higuain's salary. And given the Naples club offers direct entry to the Champions League group stages (Arsenal must go through the qualifying rounds), Gunners fans should probably be worried.
The Italian club's president, Aurelio De Laurentiis, has already confirmed negotiations for Higuain, telling reporters: "It's true that we're negotiating for Gonzalo Higuain and Leandro Damiao."