Arsenal are planning a move for Borussia Dortmund midfielder Ilkay Gundogan. The Mail Online believes the holding midfielder will cost £20m.
The proposed fee for the 22-year-old German international represents a club record for the Gunners and, if the report is true, could mark the beginning of a busy summer. The Gunners' chief executive, Ivan Gazidis, has already confirmed an "escalation in financial firepower" available to Arsene Wenger.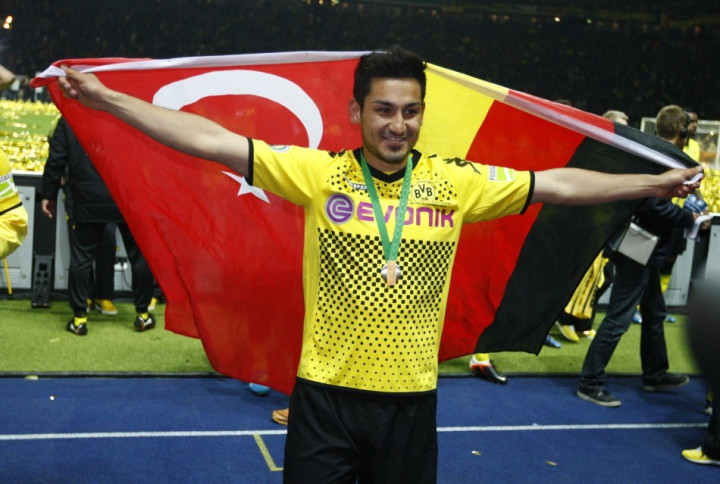 Gundogan had an excellent season with Jurgen Klopp's team, despite the club losing the Bundesliga title and the Champions League final, both to domestic rivals Bayern Munich. The former Nurnberg player has three goals and as many assists from 28 league games in the 2012/13 season.
In addition, the central midfielder is one of two Bundesliga stars the Gunners have targeted this summer, in an effort to finally fill the hole left by Cameroon international Alex Song and avoid the chaotic last-minute deals of 2011.
The second German international in Wenger's sights is Bayer Leverkusen star Lars Bender. The 24-year-old could be available for a slightly smaller fee - £15m - but represents as much value for money as his compatriot. Bender had six assists and three goals from 32 league starts this season.
However, Wenger will face competition for both his targets. The Mail believes Real Madrid may move for Gundogan, as a potential replacement for 31-year-old Xabi Alonso. And the Mirror linked Bender to Premier League champions Manchester United, although that was in November last year and he was then reportedly valued at £25m.
Of the two, Gundogan is believed to be the preferred option and his known desire to play in England will please the Gunners. However, the fact the midfielder praised Spanish football as well will have alerted Madrid, who are very likely to be able to match, if not comfortably outbid, any offer from the Gunners, despite Gazidis' claims.
"My objective is to play in Spain or England. Without a doubt I am happy here, but I have a plan for my career. I like the style of Spanish football. I have a contract with Dortmund until 2015, and the club wants to renew. At the moment we're negotiating but there is still nothing clear," he told Spanish newspaper AS.
The one concern for both Arsenal and Madrid will be that Klopp will be extremely unwilling to lose a second midfield star. Dortmund have already lost playmaker Mario Götze to rivals Bayern Munich, after the Bavarians triggered a £32.5m release clause.