Arsene Wenger insists Arsenal will be active during this transfer window but stated that finding a replacement for midfielder Mikel Arteta in January would be difficult.
The 30-year-old missed the weekend's game against Manchester City after suffering a calf strain in training and is now sidelined for three weeks. The Spaniard could miss up to five matches, including fixtures against Chelsea and Liverpool, and his absence leaves the Gunners with the injury-prone Abou Diaby as the only senior player available for the holding midfielder role.
Arsenal are yet to replace Alex Song, who joined Barcelona in the summer, and have been linked to AC Milan utility player Urby Emanuelson and Toulouse anchorman Etienne Capoue. However, Wenger refused to name his targets and remained adamant he would make additions only if he found players who have the quality and experience of Arteta.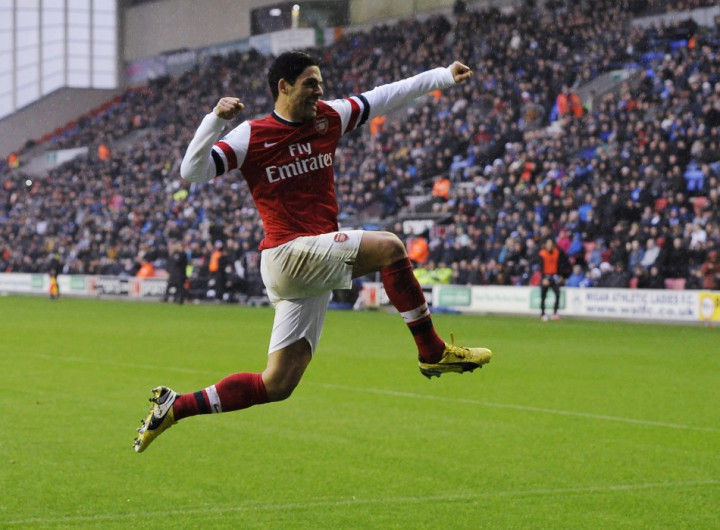 "He [Arteta] has a scan on Monday, [he will be out for] approximately three weeks. It is a strain on his calf. Of course [it's a blow]. In midfield he gives us stability, experience and tactical knowledge. We will miss that," the Frenchman told the club's Web site.
"We are in the market. To find players of a calibre of Arteta, available in January, I wish you good luck. We try very hard, believe me. We have a team around me who analyse everything. We select targets, I watch them... But it's difficult to speak about any names," Wenger pointed out.
Arsenal have already sent striker Marouane Chamakh and defender Johan Djourou on loan, to West Ham United and Hannover respectively, and are expected to trim the team further by moving more fringe players, including Andrei Arshavin and Sebastien Squillaci.
The defeat to City leaves Arsenal sixth in the Premier League table, six points behind fourth-placed Tottenham Hotspur, though the Gunners have a game in hand. However, Wenger remains confident of his side's chances in the second half of the season.
"We are in there [fight for a top-four place], of course. We have to fight to do as well as possible until the end of the season. I feel we need to find in this kind of game more defensive stability," the 63-year-old added.