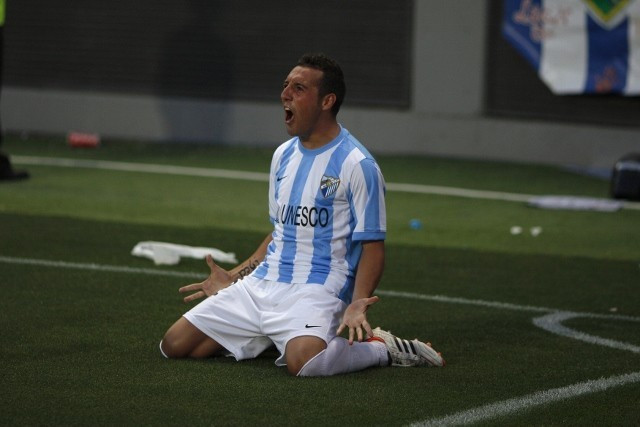 Spain and Malaga midfielder Santi Cazorla is looking to push through a move to Arsenal, a Sky Sports report suggests. The former Villarreal player is one of several players at the La Rosaleda outfit whose futures are uncertain, following confirmation that the club owner, Sheikh Abdullah Al Thani, faces financial problems and is looking to sell the club.
It is believed Al Thani is speaking to Albanian oil magnate Rezart Taci about a possible purchase but the sale aside, the club has a very short period time to clear their debts and balance the books. Cazorla and a number of other players, including former Manchester United and Real Madrid striker Ruud van Nistlerooy, had contacted the Asociación de Futbolistas Españoles (AFE; the Spanish players' union) claiming 40 percent of their salaries from last season have yet to be paid.
The club has debts believed to be in the region of £40m, in transfer fees, taxes and unpaid wages and was given till 1 August to sort out the issue or face relegation to the country's second division and forfeiture of their Champions League spot (that would mean Atletico Madrid will take their place in Europe's elite competition). It is understood however that negotiations between Al Thani and Taci are at an advanced stage.
The Sky Sports report states Cazorla will look for a move to Arsenal regardless of the possibility of the club being sold and the Gunners have reportedly increased their original offer to £18m. The 27 year old and his agent, Amadeo Rengel, intend to hold talks with the Malaga hierarchy to inform them of the player's intention to sign for the north London club.
Al Thani bought the Andalusian club in June 2010 and initially injected considerable amounts of money into his purchase. The club signed big name players like Cazorla and van Nistlerooy, along with former Bayern Munich defender Martin Demichelis and Olympique Lyon midfielder Jeremy Toulalan. The plan was to push for the Champions League and for a while that seemed to work. The club finished last season fourth, with 58 points, but success seems to have come at too heavy a price.
Gunners Re-Open Niang Talks
Meanwhile, Arsenal seem set to continue their summer signing spree and have reportedly re-opened negotiations to sign Caen striker M'Baye Niang, according to the Metro. The 17 year old impressed the Gunners during a trial earlier this month and Wenger is keen to add the talented Frenchman to his ranks. Arsenal failed with the initial bid two weeks ago but have now begun negotiations with the Ligue 1 club again as they try to snap up the highly rated youngster. The France U21 international has also attracted interest from a host of other top clubs, including Manchester City, Tottenham Hotspur and AC Milan.