Arsenal have been linked with a sensational move for Liverpool striker Luis Suarez. The Sun claims speculation of a shock transfer to the Emirates was prominent after William Hill stopped taking further bets on the rumour.
The firm is believed to have acted after large bets in Spain forced their hand.
"It would suggest they have heard something substantial," a spokesperson suggested.
According to the Mail Online, Sky Bet have slashed their odds from 20-1 to 7-2 and William Hill suspended betting after reaching 5-6.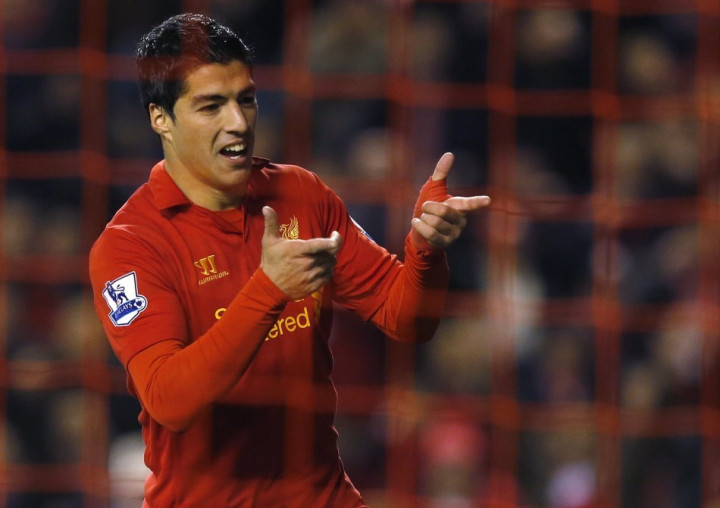 Suarez was far and away Brendan Rodgers' best player last season and the difference between the Anfield club finishing in the bottom half of the table and remaining on the coattails of city rivals Everton.
However, his biting of Chelsea defender Branislav Ivanovic in a Premier League match led to a barrage of criticism, from former players and fans. And the continuing repercussions of that incident, Suarez, claims, have forced him to demand a transfer out of England.
Speaking while in South America for the Uruguayan national team, Suarez made it very clear he blamed the British press for this present situation.
"Ever since I arrived I have felt bad, they have never judged me for my play but with the attitude that he dives, protests, makes gestures, racism - everything. They have never spoken well of me. For that reason, when I was told I could win the Player of the Year award, I said: 'I will not get excited as I know that I will never win an important award in England," the striker complained.
The 26-year-old has also openly courted Spanish giants Real Madrid, whom Madrid-based publication Marca believe are interested.
And with Argentina international Gonzalo Higuain moving ever closer to Arsenal, a spot in the Santiago Bernabeu club's forward line could be available.
The fact Suarez will miss the opening six games of the 2013/14 Premier League season (as the remaining part of a 10-match ban for biting Ivanovic) could also factor into Liverpool's decision, particularly since that run includes the visit of champions Manchester United and tough games against Stoke City, Sunderland and Southampton.
Bundesliga champions Bayern Munich have also been linked to Suarez, with new boss Pep Guardiola believed to be a fan.