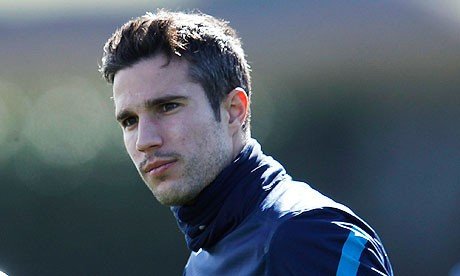 Arsenal legend Ian Wright and British athlete Mo Farah have stated they do not blame Gunners captain Robin van Persie for wanting to leave the club. The Dutchman, who has less than a year left on his contract, recently announced he would not sign a new deal and also questioned the ambition of the north London club. Premier League champions Manchester City are understood to be leading the race for his signature amid competition from rivals Manchester United and Serie A winners Juventus.
Wright feels the striker, who spent eight seasons at Arsenal, is justified in his actions and has the right to ask for a move to join another club so that he can win titles.
"I really hope Arsenal and van Persie can resolve this situation and that he will end up staying. But I cannot see this happening. At least van Persie is not the sort of player who would be unprofessional and cause problems within the group. And in many respects, I cannot blame him for wanting to join a club who are winning trophies," The Sun quoted Wright as saying.
Arsenal last won a trophy seven years ago, defeating United in the 2005 FA Cup final on penalties and have since endured the sale of iconic stars and prodigies such as Patrick Vieira, Robert Pires, Ashley Cole, Thierry Henry, Cesc Fabregas and Samir Nasri.
"For the last few years, Arsenal have lost at least one top player each summer and they have struggled to win anything as a result. Some people think footballers only think about money but this is not true. City may pay big bucks, but the attraction is the silverware. I think Arsene Wenger will be disappointed with the situation, but not angry or surprised," Wright pointed out.
"Arsenal need to address this problem of losing their best players. I admire their business plan about not spending what they haven't got, but the club is getting left behind. Even if van Persie does leave they have yet another problem as Theo Walcott finds himself in a similar contract situation with just one year left. For Wenger, the end of the transfer window cannot come soon enough," the former England international added.
Meanwhile, English track and field athlete and Arsenal supporter Farah believes van Persie will leave the Gunners this summer for silverware and not big-money contracts.
"I don't think it's anything to do with money. It's more him wanting to win things. I would love for him to stay, but unfortunately you have to think of yourself and you have to think of your career. It's ok what the public and other people think, but, deep down, you know. van Persie probably thinks the same way," the Daily Star quoted Farah as saying.
Farah is the current 5000m world champion and is a London 2012 hopeful. The 29 year old has expressed a desire to move up to the marathon after the Olympics.