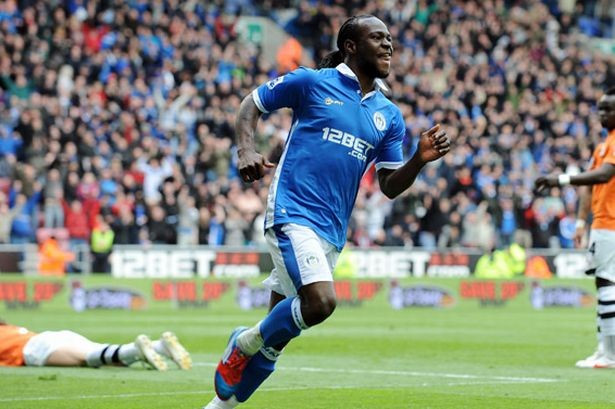 Arsenal will table an offer for Wigan Athletic winger Victor Moses, if Theo Walcott refuses to sign a new contract with the club, reports the Daily Star.
Walcott has only a year remaining on his current contract, like captain Robin van Persie, and the report says that he is unhappy with the new offer of a four-year deal worth £70,000-a-week as he wants close to £100,000.
The 23-year-old has been linked to Chelsea for some time now and it is understood that if the England international does not sign an extension, Arsenal will cash in on him this summer rather than seeing him leave as a free agent next year.
The report says that Gunners will try to replace Walcott with Moses, one of the most sought after properties in the Premier League. The 21-year-old, whose contract with Wigan runs down next summer, had played a key role in the club's successful battle against relegation last season.
The Nigerian has attracted interest from a host of clubs, including Chelsea and Liverpool, after his agent stated that the player would like to leave the Latics. He was the subject of an unspecified bid from the European champions, which was rejected by Wigan as the club tries to hold on to their star man.
Doumbia in talks with Premier League side
Meanwhile, alleged Arsenal target Tongo Doumbia has expressed his admiration for the Premier League. The Rennes midfielder, who is also a target for Everton and Aston Villa, has revealed that he is in talks with an English club.
The Mali international has been linked to the Gunners as an option if they are priced out of a move for his teammate Yann M'Vila and the player admits that a switch to England is appealing.
"Yes, there are discussions. My agent is taking care of that - it is nice but a transfer requires all parties agreeing to it and now we are talking with Rennes. And this is not that I don't want to play with Rennes but this is the Premier League, it is a league that really attracts me. I think I have a playing style suited to the Premier League. I am due to resume training on Monday, but I hope everything will be fixed shortly," Goal.com quoted the 22-year-old as saying.
Doumbia joined Rennes from Chateauroux in 2009 and has two years left on his contract.