Arsenal have identified Manchester City striker Edin Dzeko and Swansea frontman Miguel Michu as back-up should they fail in their attempt to land Luis Suarez from Liverpool. Mail Online reports that Arsenal's scouting staff had a meeting validating a list of alternative options if they fail to land their prime target.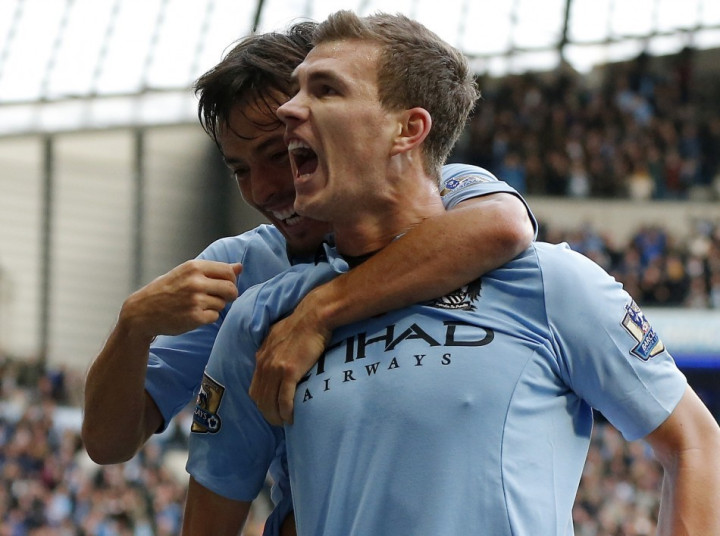 Anfield chiefs have been very clear about their no-sale stance regarding the Uruguay international but Arsene Wenger is reportedly hopeful he can still persuade both John W Henry and Brendan Rodgers.
The Mail believes the north London club are preparing a third offer of nearly £50m. However, there is now increasing realisation in the Arsenal camp that they miss signing Suarez this summer.
Dzeko's situation at City is potentially difficult and the 27-year-old may be open to the idea of a transfer to get regular first team football, particularly in a World Cup year.
The former Vfl Wolfsburg forward has a good record over the past couple of years, with 28 Premier League goals from 62 appearances; 30 of those were off the bench, usually midway through the second half.
He may have held out hope of a change in fortunes with the appointment of Manuel Pellegrini but the swift arrivals of Spanish international Alvaro Negredo and Montenegrin Stevan Jovetic appears to have left him frustrated again.
And with regular football and a supply line consisting of Santi Cazorla, Jack Wilshere and Tomas Rosicky on offer at Arsenal, Dzeko could provide everything Suarez can, in equally comfortable quantities.
Michu, meanwhile, had a much bigger impact on his club last season. The Swans' goal scoring star was an unknown quantity last summer but 22 goals in all competitions, in his debut season in England, has raised a few eyebrows.
The Spaniard is a relatively unproven figure, compared to Dzeko. And that may worry Wenger. Was Michu's brilliance last year a one-off occurrence? That remains to be seen. However, his playing style should suit the Gunners and that may prove to be a point in his favour.
The Gunners were also linked with bids for both Dzeko and Michu earlier this summer, as part of a summer revamp of the strike force. However, since then arguably bigger names like Argentina international Gonzalo Higuain Jovetic were reported. However, neither has arrived at the Emirates - the former Real Madrid man signed for Serie A club Napoli and Jovetic moved to the Etihad.