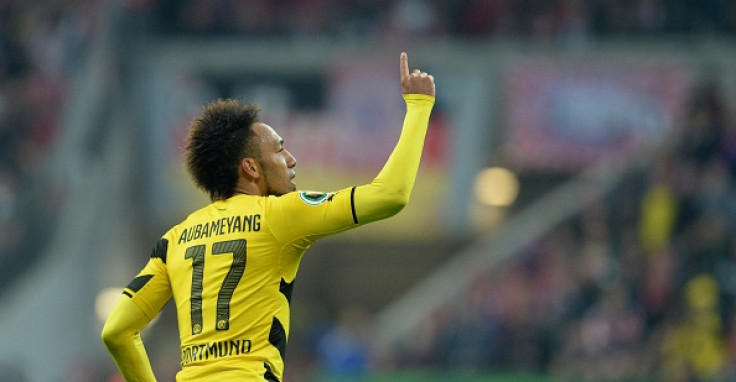 Arsenal are considering a move to sign Borussia Dortmund forward Pierre-Emerick Aubameyang in the summer transfer window, according to Le10Sport.
The 25-year-old joined the German club from Saint-Etienne in 2013 and has been in impressive form. This season, he has scored 25 goals and managed 10 assists in all competitions.
Dortmund have struggled this term and the season ended with a disappointment after they suffered a 3-1 defeat against Wolfsburg in the DFB-Pokal final. It was also Jurgen Klopp's last match as Dortmund manager and Aubameyang was on the scoresheet.
The Gabon international's performance has attracted interest from the north London club as their manager Arsene Wenger has set his sights on the player to improve his side's attacking division.
Arsenal have Olivier Giroud as the main striker at the Emirates, with Theo Walcott and Danny Welbeck also capable of playing up front.
The Le10Sport claims the Premier League side have already made an offer of €42m (£30m, $45.8m) in landing Aubameyang. Any move from Arsenal for the Dortmund frontman will see them face competition from their league rivals.
Liverpool were interested in signing him before he joined Dortmund. The Reds' manager Brendan Rodgers has rekindled his side's interest in signing him in the summer.
Dortmund confirmed Thomas Tuchel will replace Klopp as their manager for the next season. Aubameyang had admitted his future would be decided after holding talks with the new manager.
"For now, the most important will be to meet the new coach. I have not yet had the chance to see him, talk with him. It will be decisive. It is for him to tell me if he wants me or not (laughs). Then I can make a decision. For now, my idea is to stay here again. It would be good for me, for my future," Aubameyang explained.