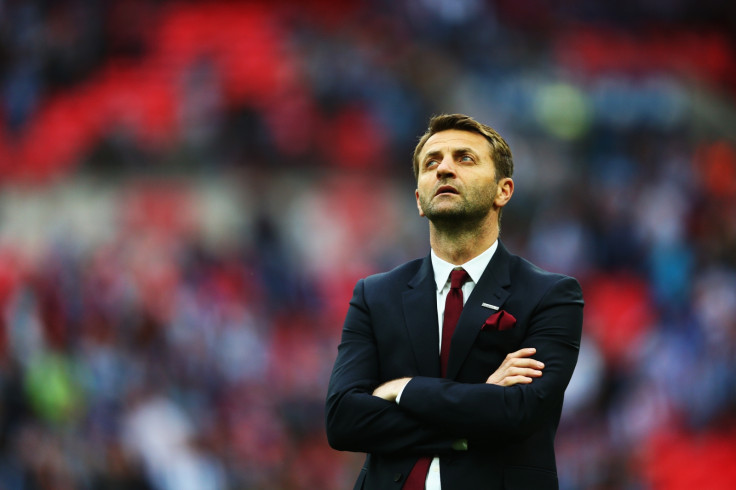 Aston Villa manager Tim Sherwood has refused to make excuses after his side were thrashed by Arsenal in the FA Cup final.
Goals from Theo Walcott, Alexis Sanchez, Per Mertesacker and Olivier Giroud ended Villa's hopes of securing a first major trophy for 19 years.
Sherwood's side produce a performance which was in stark contrast to the showing which saw them dispose of Liverpool in the semi-final against Arsenal and Sherwood says his own tactics were to blame.
[Arsenal] deserved to win the game," he said. "They've got outstanding world class footballers and we couldn't nullify their threat and we couldn't manage to impose ourselves on them.
"I didn't try to stop them. I tried to impose ourselves and it wasn't possible today. I played the way I felt best suited the group of players I had and unfortunately it wasn't good enough."
Since arriving in February, Sherwood has won seven of his 16 matches in charge to help the club reach their first major final against Arsenal in 15 years and survive relegation from the Premier League.
However, after being thumped by Arsenal, Sherwood is under no illusions that his side need significant surgery before the start of next term.
The Villa boss has confirmed that several players have already been informed their future lies away from Villa Park while Sherwood is planning a flurry of summer additions
"I feel sick and so do the boys today. We didn't need this result to remind me of [how much work there is to do in the summer]," he added after the 4-0 loss to Arsenal
"We need to improve. We need to add to the squad but not only that this group of player they need to get better.
"They'll be a few changes but it will be as many as we can possibly do. Obviously we know we need to improve.
"[The process will start] immediately. Some of the boys have already been told they won't be here next year or they can go and find other clubs."