Arsenal are considering a January bid for Borussia Dortmund forward Mario Gotze, according to the Metro. The German international's contract runs till 2016 but rumours of a £30m release clause in the deal may make the length of the agreement superfluous, if big-spending clubs like Manchester City, Barcelona and Real Madrid decide to get involved.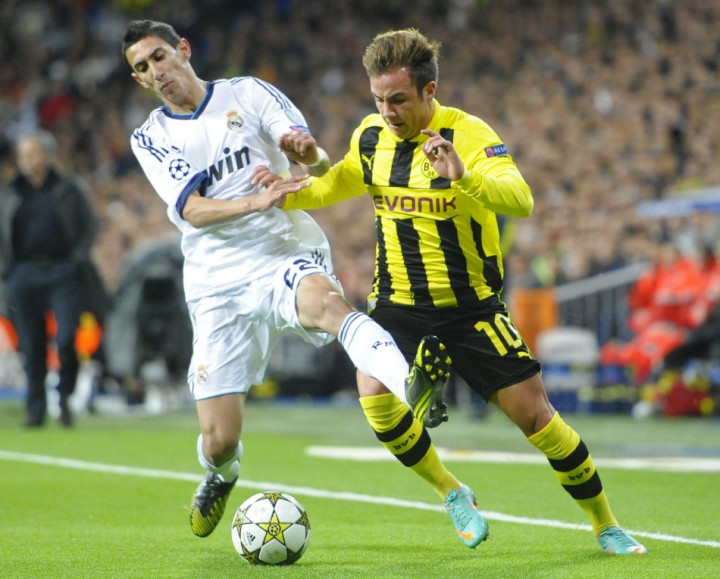 The Gunners are expected to bid to trigger the above release clause but history suggests such a sizeable bid is unlikely to be forthcoming from the Emirates club, given manager Arsene Wenger's stance on big-money signings. As ever, the club does have funds, with confirmation of a £150m sponsorship deal with Emirates and availability of at least £35m in January. However, Wenger has a long-standing interest in the 20 year old, with reports of a £35m bid in the summer of 2011.
Gotze is widely regarded as one of the best young talents in German football and, along with team mate Marco Reus, the future of Die Mannschaft. The youngster has started the 2012/13 Bundesliga season on a high, with six goals and five assists from his 19 appearances so far. And at £30m his transfer to the Emirates, should it happen, will set a new club record; the present highest transfer fee is for Russian Andrei Arshavin, who was bought for less than half the amount.
The youngster's addition to the Gunners' ranks can only add to the potency of an attack that has struggled at times this season. Arsenal have 24 goals in 14 league games this season... and are eighth in the table on that count, with Everton, West Brom and Fulham all having scored as much or more. Furthermore, Gotze's movement off the ball and decisive style of play could benefit the north London club, whose over-reliance on Spain international Santi Cazorla in the playmaker role has been exposed on occasion.
Meanwhile, Danish international Nicklas Bendtner could be forced to return to Arsenal, after failing to impress Italian champions Juventus while on loan for the first half of the season. The 24 year old has made only six appearances for the Turin club so far and has yet to score a goal.