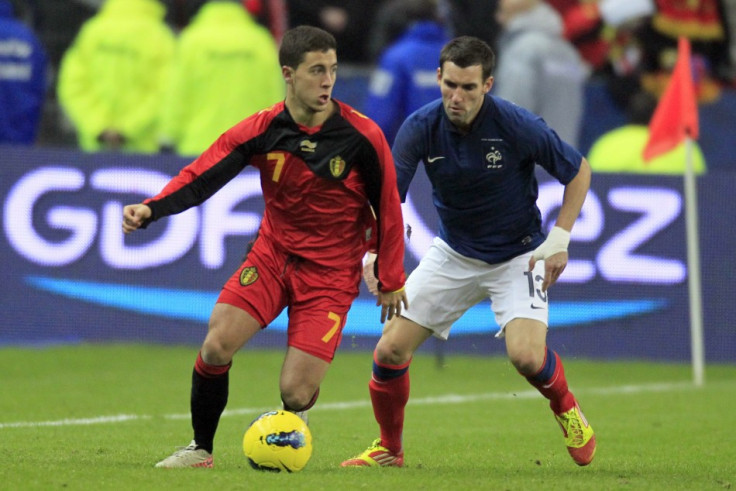 As a seventh consecutive season without a trophy becomes a reality for Arsenal, the burden of expectations will be on Arsene Wenger to be a key man in the summer transfer market and contrary to popular belief, Wenger has stated, this time, he is not afraid to spend big, if he finds "quality".
Here are five names who could be top targets for the Frenchman next season:
1. Jan Vertonghen (Ajax and Belgium)
The signing of the Ajax captain is one of the most reasonable and smartest transfers Arsenal could make this summer.
Vertonghen is incredibly versatile, with the ability to play in central defence, at left back and in defensive midfield positions. The defender also has an eye for goal and frequently joins the attack. He has managed to score 21 goals for the Dutch club from 146 matches.
Moreover, the player has already confirmed his decision to move from Ajax in the summer and has reportedly up to ten clubs on his list of potential destinations. These include Manchester United and Tottenham. However, the Gunners can expect a decision in their favour as the 24-year-old is close friends with Arsenal vice-captain Thomas Vermaelen - a crucial factor when he chooses his future club.
Arsenal has one of the Premier League's best centre backs in Vermaelen and an able deputy in Laurent Koscielny. If the London club does add Vertonghen to their squad, they can boast of a solid defence ahead of next season.
Finally, at a reported £7m price-tag, it would be a real steal for the London club, if the deal goes through.
2. Yann M'Vila (Rennes and France)
M'Vila, who can operate as an anchorman or a box-to-box midfielder, is arguably the most important member of Laurent Blanc's rejuvenated French national team.
Incredibly athletic and strong, his club describes M'Vila as a player, who "possesses excellent defensive abilities" and "impressive physical strength" and the 21-year-old's attributes and style are ideal for the Premier League.
Wenger already has an excellent holding midfielder in Alex Song but with the Cameroonian developing an eye for defence-splitting passes and over-the-top balls this season, the signing of M'Vila would allow Song to operate in a slightly offensive role, if needed.
Wenger reportedly had an offer of £17.5m turned down last summer and the signing might be a difficult one, particularly with the big-spending Real Madrid interested in the Frenchman.
Plan B: Lucas Biglia (Anderlecht and Argentina) - If Wenger fails to land M'Vila he could go for Lucas Biglia. The 26-year-old Argentine midfielder reportedly wants out of Belgium and he is rated at around £6m, which fits Arsenal's price range.
3. Lukas Podolski (Cologne and Germany)
Several reports say the Podolski to Arsenal deal has been completed and it is only a matter of time before an official announcement is made.
Wenger has previously said he believes the signing of a forward like Podolski could make Arsenal a major challenger for titles next season and, importantly, ease the pressure on captain Robin van Persie.
With 16 goals from 21 league matches this season, the versatile German - who is equally efficient as a striker or winger - has been in excellent form and it will be a huge boost for Arsenal if he moves to the north London club from Cologne in an £11m deal.
Plan B: Olivier Giroud (Montpelier and France) - The main reason why French minnows Montpelier are atop Ligue 1 has been the sensational form of their striker Olivier Giroud, who has 18 goals and seven assists from 27 matches. If the Gunners' move for Podolski falls through, a bid in around the same range should be enough to land the 25-year-old Giroud.
4. Matias Suarez (Anderlecht and Argentina)
Matias Suarez was heavily linked to Arsenal in the January transfer window, when the Gunners' scouts watched the 23-year-old striker repeatedly. Suarez is capable of playing out wide or through the centre.
Arsenal did not make an offer for Suarez in January, opting instead to sign club legend Thierry Henry on a two-month loan.
However, with Marouane Chamakh and Park Chu-Young having scored only two goals between them all season, Arsene Wenger will certainly be looking to offload one, if not both of his back-up strikers and look for a more goal-hungry front-man.
With Cesc Fabregas gone, there were calls from pundits and fans throughout this season to revert to a more traditional 4-4-2 line-up, from the current 4-3-3 - a change made by Wenger reportedly to bring the best out of the Spaniard. It is worth noting the club has not won silverware since that tactical change. Now, after another trophy-less season, Wenger might be rethinking his formation.
This means there is one more reason to have another striker in the squad and the £10m rated Suarez, who has 13 goals and eight assists for Anderlecht this season, fits the bill perfectly.
5. Eden Hazard (Lille and Belgium)
The big one!
With German playmaker Mario Gotze signing a new long-term deal with Borussia Dortmund, Arsenal has only one big transfer target for this summer: Eden Hazard.
The 21-year-old, dubbed as "the next big thing in European football" has 13 goals and 10 assists so far this season and was vocal about his admiration for Arsenal last year, as the youngster thinks Wenger's guidance would valuable to him.
Moreover, even Wenger, who usually never speaks much of his targets till he signs them, has stated his admiration for Hazard.
"I like him a lot, and for several reasons. His creativity, his ability to unbalance the opposition, his vision and his consummate art of giving the final ball make him a player coveted by many," he once said. Wenger's uncharacteristic comments indicate how badly Arsenal want to land Hazard.
Since the Belgian wonderkind said he would prefer a move to the Premier League this summer, all the big English clubs and managers have stated their interest in Hazard. So for Arsenal to land Hazard they have to beat bids from Manchester United, Manchester City, Chelsea, Liverpool and Tottenham, who are all reportedly interested.
In such a case, remember Wenger had stated earlier this week he preferred quality over quantity this summer and therefore a big-money move for a world-class player cannot be ruled out. It would have to be a really big bid indeed, since Lille's price-tag for Hazard is well above £30m.
Plan B: Riccardo Montolivo (Fiorentina and Italy) - Everyone knows how "fiscally responsible" Arsene Wenger is and if a move for Hazard doesn't work out due to monetary reasons, the Arsenal boss might be tempted to go for Fiorentina captain Riccardo Montolivo.
The midfielder is out of contract in the summer, which means Arsenal could get him for free and if they can convince the Italian to come to London, they will get good value in the dynamic playmaker.
Must Read:
Chelsea Transfer Targets: Five Players Blues Must Sign This Summer
Manchester City Transfer Targets: 5 Players Roberto Mancini Must Sign This Summer [PHOTOS]
Manchester United Transfer Targets: Five Players Red Devils Must Sign This Summer