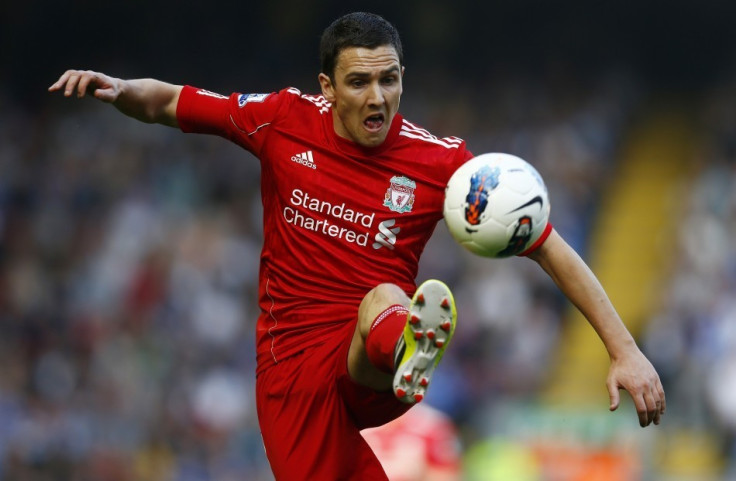 Arsenal are reportedly interested in signing out-of-favour Liverpool winger Stewart Downing in January, according to the Daily Mail. The Reds' wide man was a Gunners target last season, following the departure of France international Samir Nasri to Manchester City. However, the Anfield club outbid Arsene Wenger and eventually signed the England international for £20m. The Daily Mail reports a bid of £10m could be enough to convince the Merseyside club to sell the player.
Downing came to Liverpool with high expectations, following a hugely impressive spell with Aston Villa. Unfortunately for him, the Kenny Dalglish-era signing has simply not been able to perform with his new club, leading to Rodgers publicly questioning his commitment and ability. In fact, so poor have his performances been that the Northern Irishman has opted to play Downing as a reserve left back rather than his more natural position on the flank.
The Gunners do not have many natural wingers in their ranks. Wenger generally uses German international Lukas Podolski and England's Theo Walcott in those positions, along with Ivory Coast's Gervinho. And among those three, the latter is probably the most comfortable playing out wide. Podolski has admitted he would prefer to play through the centre, while Walcott's desire to occupy a similar position is no secret.
It would help Wenger's approach for Downing that the Reds have been linked by the Daily Mail with a move for Walcott and a swap deal involving the two may be possible, although, based on present form, it would represent a huge gamble for the Emirates club. Downing has also been linked with a January return to Middlesbrough, where he was born and with whom he started his professional career and spent eight seasons till his 2009 move to Villa Park.
Meanwhile, on the pitch Villa held Arsenal to a third goalless draw of the season for Wenger's men. This follows stalemates with Sunderland and Stoke City in the opening two games of the campaign. Wenger blamed fatigue for the draw at Villa Park, saying his players were still recovering from a midweek Champions League game against Montpellier.
"We were a little bit frustrated. We expected a difficult game because we played an intense game last Saturday against Tottenham. We had a Champions League game on Wednesday night so we knew it would be hard," the Frenchman explained, adding, "Always, when you play away from home after the Champions League it can be difficult. We lacked a bit of sharpness today in the final third. Physically we were jaded."
Wenger also commented on criticism over his substitution of French striker Olivier Giroud for midfielder Francis Coquelin. Supporters were reportedly disappointed as they felt it represented a defensive move.
"I don't want to comment on that. I do my job and do my best for the club. I leave it to you to judge. I try to be as good as I can be. Is it hurtful? Look, I have managed for 30 years at the top level and I have to convince you I can manage the team?" Wenger asked, adding, "How many games have you managed? I promise you if you manage one I will sit in the stands and chant 'you know what you are doing!''