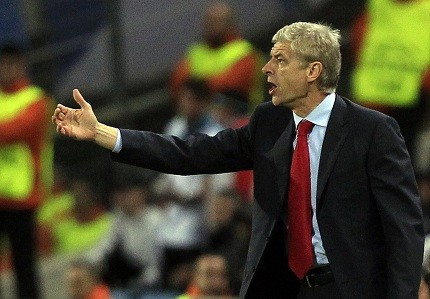 Arsene Wenger is reportedly finally ready to make substantial investments and changes to his side and gamble on the right player to sign, this summer, as he targets quality rather than numbers, to improve his squad, according to an ESPN report.
Wenger stressed that as Jack Wilshere and Abou Diaby were returning from injury, he is unlikely to add more players to the team, just for the sake of increasing numbers.
"Quantity-wise we will not do a lot. Quality-wise certainly and we will take a gamble if we find top, top quality of course,'' ESPN quoted Wenger as saying.
"The number of the squad is 25. We have many players out on loan and we have not had Jack Wilshere or Abou Diaby for the whole season. These players will be back and that means number and quality wise we are strong, because we are now in the position we are in without these players," the Frenchman added.
Wenger, meanwhile, denied reports his club had reached an agreement with FC Koln to sign German forward Lukas Podolski. However, he did admit he would rather complete transfers early this season and preferred to avoid leaving signings to deadline day.
"Nothing is done. It could happen soon, it could happen later, I don't know," Wenger said, adding, "Last year was terrible for us because we finished on the 31st August at 11.55pm and we do not want to repeat that."
Must Read: Arsenal Star Still Undecided on Future, Wenger Admits