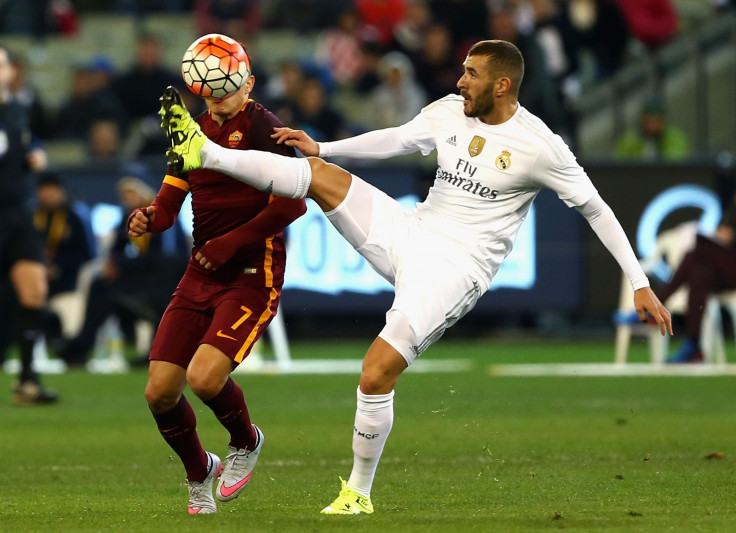 Arsenal have been advised to sign Real Madrid striker Karim Benzema in order to strengthen their bid for the Premier League title.
The Independent has reported that the Gunners are preparing a £40m ($62.3m) bid for the France international, who has continually been linked with a move away from the Bernabeu despite his role at the fulcrum of the Real attack.
But former QPR manager Harry Redknapp has urged Arsenal to proceed with the deal, saying it would put them within one signing of mounting a "serious title challenge".
"If Arsenal were to land Karim Benzema then they'd be one player away from being capable of launching a serious title challenge," Redknapp told Kicca.com, according to the Evening Standard.
"They signed Petr Cech earlier this summer and if they land Benzema then for me that would leave them with either a defensive midfielder or central defender to get and you'd have to then look at them as a genuine title threat.
"They've got a lot of quality in midfield, players you can play in a number of roles so I'd probably go for a central defender, but I have to say I fancy them next season, I really do."
"Will Benzema leave Real Madrid for Arsenal? Well, he's won everything there is to win there and the lure of the Premier League is hard to resist.
"Also, it's in London and there are quite a few French connections at Arsenal so you never know."
Arsenal have made just one signing this summer in the form of former Chelsea goalkeeper Cech, however despite concerns over their defence and attack Arsene Wenger has resisted making further additions.
Wenger has already been probed over whether the reports regarding Arsenal's interest are true, with the 65 year old denying suggestions Benzema is part of his summer plans.
"I don't know where that story has come from. But that's not happening at the moment," Wenger said during a press conference in Singapore, according to Sky Sports.