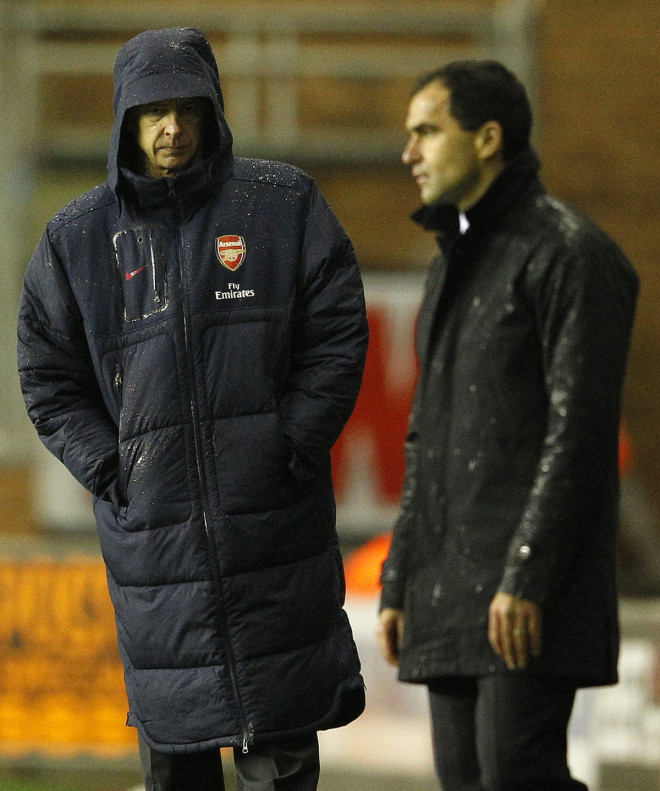 Everton 3 - 0 Arsenal FT
Steven Naismith scores opening goal on rebound from Romelu Lukaku's shot
Lukaku doubles Everton's lead from open space in the middle of the box
Mikel Arteta piles on nightmare day for Arsenal with own-goal in the second half
3:22pm: And that's a wrap! Everton finish with a convincing 3-0 win over Arsenal and they are now just one point behind the fourth-placed side with a game in hand.
3:21pm: Yaya Sanogo has a shot but it's ruled offside and it looks like that will be Arsenal's last chance on goal.
3:15pm: Big shot for Arsenal as Alex Oxlade Chamberlain goes for it but the ball smashes into the bar. Sums up the side's day really.
3:05pm: Everton are continuing to look commanding and they will likely protect this lead as the game edges closer to the final minutes.
3:00pm: Arsenal make a final change with Yaya Sonogo coming on for Olivier Grioud.
2:58pm: Arsenal currently have 60% of possession and that's all they can celebrate at the moment. The side look a shell of the one which was sitting proudly up top in the table in the first half of the season and Arteta's goal has knocked their confidence. Chamberlain is now on for Podolski and Ramsey comes on for Flamini.
2:51pm: GOAL! Absolute nightmare for Arsenal as formr Everton man Mikel Arteta scores an own goal. After Mirallas has a shot on goal he scrambles for the ball with Arteta and it's the Arsenal man who gets the edge, but in the wrong direction.
2:50pm: And Ramsey is warming up! This could prove to be the boost for Arsenal that they sorely need. It's just a question of when Wenger will bring him on...
2:47pm: Everton are still looking the hungrier side though at this stage and their domination in the midfield is screaming for some changes from Wenger. Lukaku is giving the defenders hell and it could be a very long half for the Gunners if they keep this up.
2:40pm: Arsenal are coming into this half full of hunger and after Monreal has a chance on goal the side make a huge penalty appeal after James McCarthy looks to commit handball in the box. No such luck with the ref though.
2:33pm: And we're back in action! Can Arsenal turn this around?
2:19pm: And the half-time whistle has blown. Surely Wenger is considering bringing on Oxlade-Chamberlain and Aaron Ramsey. A lot of work to do as Arsenal try and turn around a compelling lead set up by Everton.
2:16pm: According to OptaJoe:
Romelu Lukaku's total of 13 PL goals is the best by an Everton player since Yakubu scored 15 in 2007-08. Impressive.
2:14pm: More bad news for Arsenal, with a booking for Flamini after committing a foul on Naismith. The Frenchman is now effecitvely suspended for the Gunners' next two matches as that's his 10th booking.
2:13pm: A brilliant save from Tim Howard as Podolski looks to give Gunners fans something positive from this half.
2:09pm: Lukaku is on fire now and the striker surges for another chance on goal but the ball flies wide. The Gunners need to hold on until half time - what changes will Wenger ring in? Will he bring on Ramsey?
2:04pm: GOAL! It was coming, and Romelu Lukaku has doubled Everton's lead in the 34th minute. Kevin Mirallas had already had an attempt on goal himself and on the break found Lukaku who slotted the ball in from the centre of the box. Things just got a lot more difficult for Arsenal.
2:02pm: Barkley might have started on the bench but Martinez will be liking his work at the moment with the English star having two shots blocked. Toffess are looking very strong at the minute.
1:58pm: Everton and Arsenal have had six shots apiece so far but four of those have been on target for Toffees compared to only one for the visitors.
1:52pm: Arsenal may be behind but they are pushing to turn it around, with Olivier Giroud taking a brilliant pass from Sagna but spraying it wide.
1:50pm: That was a very important goal for the Toffees (to state the obvious), who as it stands are now one point behind Arsenal in the table with a game in hand. Last season Tottenham pushed the Gunners until the final day for Champions League qualification but Wenger's side proved stronger. Can Martinez do what Andre Villas-Boas couldn't?
1:45pm: GOAL! Everton get the first one in thanks to Steven Naismith who was on-target from the centre of the box after Romelu Lukaku's shot was cleared by Wojciech Szczesny. A very professional goal from the Scot and Goodison Park couldn't be happier right now.
1:45pm: Both sides are offering the excitement we were hoping for with Leighton Baines having his own shot on goal but being ruled offside. Could go either way at this point.
1:40pm: It's been quite a busy 10 minutes for Leon Osman! The captain for the day is now injured, after cutting his face in his clash with Sagna, and coming off for Ross Barkley.
1:39pm: Osman has been booked for a challenge on Bacary Sagna.
1:39pm: Podolski and Cazorla are pairing up well with the latter serving the ball to the former on two occasions now. Both shots have missed the net but it's certainly looking promising for the pair.
1:35pm: And now it's a shot a piece already! Lukas Podolski has an attempt but it sails across the goal. Advantage in possessino going slightly Everton's way at the moment...
1:33pm: Very early chance for Everton as Leon Osman gets possession and shoots a volley just wide from the edge of the box.
1:30pm: And we're off! Romelu Lukaku gets us underway at Goodison Park.
1:28pm: Kick off is very near and both teams know just how important this game is. Will Martinez be proven as the next top manager? Or will Wenger's experience in these high pressure matches win out?
1:25pm: There's lots of rumours circulating over Roberto Martinez's future with the manager having shown great potential since taking over Everton from David Moyes in the summer. While Moyes has struggled at Manchester United Martinez flourished in his old position and the manager insists Everton will need to be perfect today if they hope to challenge Arsenal.
"We've earned the right to fight for fourth," Martinez said in Friday's press conference. "That's a good season so far. There are 21 points to fight for. It's down to how many we can get.
"When you're playing Arsenal, you need to be perfect, and there's nothing better to help that than playing at home."
1:20pm: It's a particularly important game for Wenger who started the season flying high but has seen his side struggle in 2014. A draw with Manchester City last week seemed to show the side still have what it takes to compete with the best but as they look set to go a decade without silverware it's the manager's job to convince the players the importance of finishing stongly.
1:15pm: Arsene Wenger has shown the upmost of respect for Everton this week and he insists he wants to get the maximum points today to create distance with the side.
"Yes, It's an opportunity to create distance from Everton," he said. "That's what this game is about. They are a good side that's why they are where they are.
"I don't need to explain how important this game is for us.
"I believe we were a bit flat after the Swansea and Chelsea game so it was important not to lose against City. We can build on that against Everton."
1:05pm: At the beginning of 2014 Arsenal where in serious contention to lay claim on the title while Everton were only just realising their goal of fighting for a Champions League place. February saw the Gunners move 10 points clear of the Merseyside club but now the pair are closer than ever.
A massive dip in form for Arsenal in which they've won just three of their last 10 games has left the side in serious trouble of losing their spot in Europe's most decorated tournament and Roberto Martinez is keen to take his side there within his first season of coaching them.
1:01pm: Team Line-ups:
Everton: Howard, Coleman, Stones, Distin, Baines, McCarthy, Barry, Naismith, Osman, Mirallas, Lukaku. Subs: Robles, Hibbert, McGeady, Barkley, Garbutt, Alcaraz, Deulofeu.
Arsenal: Szczesny, Sagna, Mertesacker, Vermaelen, Monreal, Flamini, Arteta, Rosicky, Cazorla, Podolski, Giroud. Subs: Viviano, Ramsey, Sanogo, Jenkinson, Kallstrom, Bellerin, Oxlade-Chamberlain.
1:00pm: Good afternoon and welcome once more to IBTimes UK's live blog! Arsenal are taking on Everton this afternoon in a match-up that sees both sides gunning for a Champions League place.
The Toffees are just four points behind Arsene Wenger's side with a game in hand and a win would make for an interesting run into the end of the season for the pair.