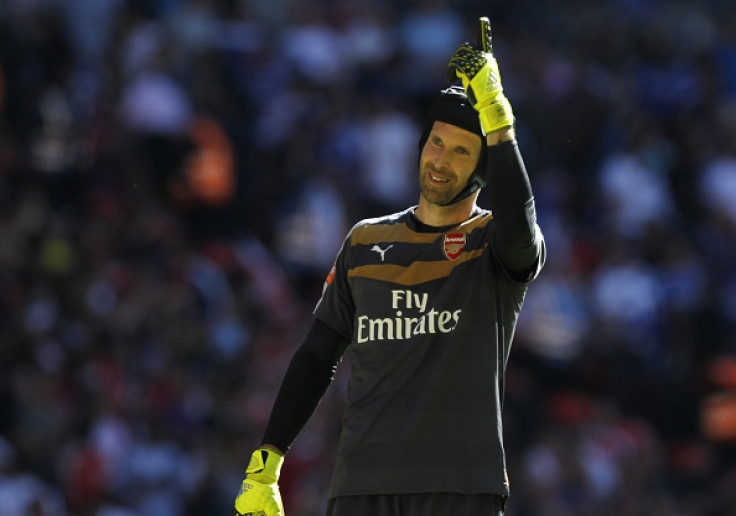 Arsene Wenger has revealed that signing Petr Cech from Chelsea was far from an easy decision as he had reservations about his ability to perform at an optimum level after sitting on the bench for over a year at Stamford Bridge. Jose Mourinho had preferred Thibaut Courtois over Cech, which led the 33-year-old to reconsider his position at Chelsea and eventually transfer to Arsenal at the insistence of Wenger.
Cech was Arsenal's only transfer in the January window, but the veteran keeper has been among their most important players, as the Gunners look to end their 11-year wait without a title. His performance against Stoke City, which earned Arsenal a crucial point was indicative of his physical level and the calmness he bestows in defence for the north London club.
However, Wenger revealed that he had an eye on David Ospina before making the decision as he considers the Colombian to be among the best in the business in his position. Ospina was in charge at the Emirates in the second half of last season after Wojciech Szczesny was relegated to the bench following a series of poor performances. The former Nice player has made only three appearances in all competitions this season, with his blooper against Olympiacos in the Champions League forcing Wenger to reconsider his options at the back.
"Look, it was a very, very difficult decision for me because I highly rate Ospina," Wenger said, as quoted by Sky Sports. "I have a high opinion of him. Ospina is a goalkeeper who, in my opinion, is underrated, especially in England. But [signing Cech] was maybe one of the few opportunities to say, 'OK, this is obvious'. It was more to say, 'If I don't do this, it would have been a mistake' I think."
Wenger revealed that he was also circumspect about Cech's physical level after being made second choice at Chelsea but decided to take the risk and that has paid off massively thus far.
"I didn't know what kind of shape he was in physically because he hadn't played," he added. "When I met him I was quickly reassured of his desire to do well and his motivation. I didn't know how much he could still produce physically.
"He hadn't played and was battling a drop in physical aptitude. But I knew the potential was exceptional having played against him [for] 11 years in the Premier League. It was a question of, 'Physically, can he still do it?"'