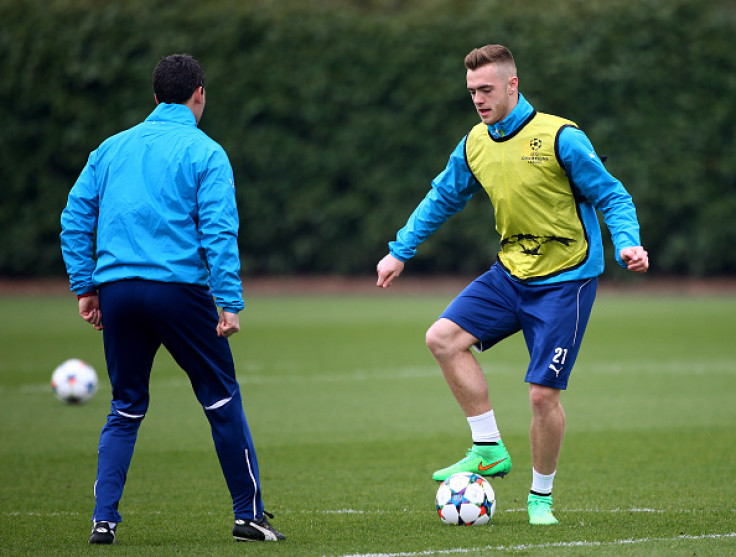 Arsenal manager Arsene Wenger is looking for an internal solution to fill the void left by Francis Coquelin after he suffered a knee injury during the Gunners' 2-1 loss to West Bromwich Albion on 21 November. The manager, despite suggesting that he could dip into the January transfer market, is hoping that other players in the squad can step up and grab the opportunity, like the injured French midfielder did after breaking into the team last December because of injuries to Jack Wilshere and Mikel Arteta.
Coquelin, who has been ever present in the Arsenal midfield since midway through last campaign, has been ruled out for at least two months with a knee ligament injury. With Mikel Arteta also ruled out, Wenger is left light in the defensive midfield department. Mathieu Flamini and Calum Chambers are the only options available to the manager going into the busiest part of the season.
The Gunners are currently fourth in the Premier League after their loss to the Baggies and face a must-win Champions League tie against Dinamo Zagreb on Tuesday (24 November) as their hopes of making it to the knockout phase of the elite European competition hangs by a thread. The manager is disappointed to lose a key player at such a crucial part of the season but is hoping the players at his disposal can step up and help Arsenal continue their push in the Premier League and Champions League.
"It is of course a disappointment to lose him on the longer term but we have players who can compensate. We have lost a player of quality for a while and we know this can happen during the season," Wenger said, as quoted on Arsenal's official site.
"I will give myself time. We have players who play in this position, like Flamini. We have players like Chambers [too], because he has been educated as a central midfielder. Sometimes this is a good opportunity for other players to turn up and show they can do the job," the French manager added.