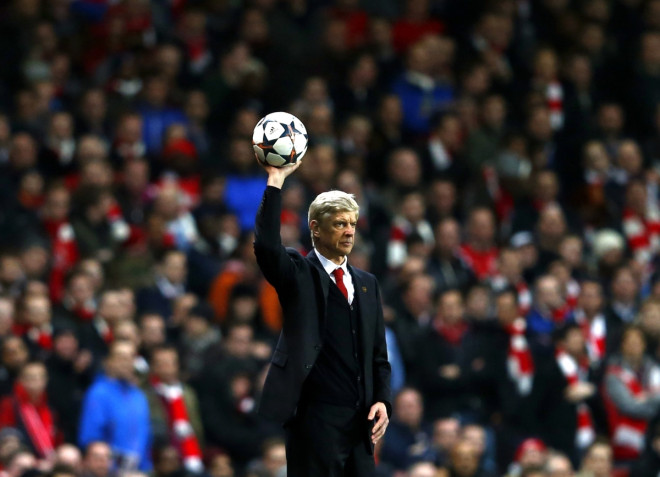 Arsene Wenger has revealed that his side cannot afford any slip-ups in the remainder of the season if they have to keep their title hopes alive.
The Gunners face Tottenham Hotspur on Sunday where a win will keep the pressure on Liverpool and Chelsea for the top spot but a loss may see them go 10 points behind the leaders and with little chance of winning their first league title since 2003/04.
Arsenal have a tough schedule lined up for this month with a trip to Stamford Bridge on the agenda next week followed by a game against Swansea and Manchester City at the Emirates.
Arsenal's title hopes received a massive blow after they lost 1-0 to Stoke City at the Britannia, much to the disgust of Wenger who accused the referee of giving the opposition a gift in the form of a penalty.
However, the Gunners bounced back with a win over Everton in the quarter-finals of the FA Cup and drew 1-1 against Bayern Munich at the Allianz Arena to initiate a resurrection. A win here will give them some much needed confidence ahead of a trip to Stamford Bridge which will be Arsene Wenger's 1000th game in charge of Arsenal.
"We have played two draws and three losses there [in the last five league meetings]. It is a difficult ground to go to for everybody. It has always been difficult at White Hart Lane but we are in a position where of course we want to win the game," Wenger told www.arsenal.com.
"After Stoke it was very important that we had a good result against Everton, we had a good result even at Bayern but [it remains important] that we continue and have no weak moment any more until the end of the season."
The Frenchman also had kind words for his counterpart Tim Sherwood who has been in trouble recently for his comments regarding Tottenham's performance against Chelsea in the league.
"I think he said that the performance was not right, and I say that as well sometimes. For the rest I think he is dealing with it well. There was an incident during the [Tottenham v Benfica] game, and I think he was right personally because he had been provoked in an unfair way. Overall he handles the [whole] situation well," he concluded.