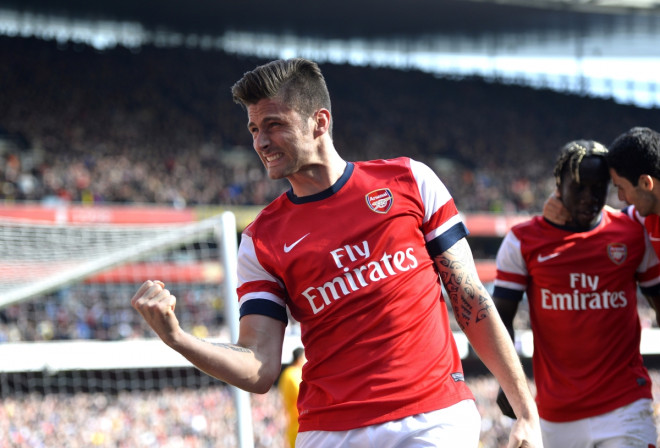 Arsene Wenger has publicly defended his striker Olivier Giroud amid claims the Arsenal boss will consider replacing him this summer.
The Gunners manager left the Frenchman out of is starting line up in the FA Cup semi-final win over Wigan on Saturday and instead handed a start to 21-year-old Yaya Sanogo, an approach Wenger also took in key games against Everton and Bayern Munich earlier in the campaign.
Giroud's omission from the starting line-up worked to fuel speculation suggesting his club are ready to offload him at the end of the season despite leading the club's goal scoring charts with 19 goals in all competitions.
But Wenger has quelled talk of a falling out, insisting he was simply giving his striker a rest as a demanding season for the club draws to a close.
"He has a fantastic spirit, Olivier Giroud is a fantastic team player," Wenger said. "He has gone through a little bit more of a difficult period, but that happens to any striker.
"Striker is the most demanding position, he has played, many, many games –more games than any other striker in the Premier League, and that of course is very demanding."
Shortly before Arsenal secured their place in the FA Cup final, Everton leapfrogged them into fourth place in the league with a win over Sunderland on Saturday and currently hold a two point advantage over the Gunners.
The visit of West Ham United will allow them to – temporarily at least – reclaim fourth spot from the Toffees, but Wenger is expecting plenty more twists and turns in the race for the final Champions League spot before the season ends.
"It (winning every game) is the target," Wenger said. "Do you need it? Nobody knows, but the target is of course to win every game. We want to achieve it (a top four finish) and that's simple. We just want to not imagine the consequences of not doing it, what you want is just to focus on doing it.
"That is where I think we have the focus, the quality of the spirit, we have the desire and we are slowly getting our players back so the squad is not depleted any more. It's much more stronger than it was two or three weeks ago."