Arsene Wenger has said that Shkodran Mustafi will be out for at least 21 days with a hamstring injury he picked up against Stoke City in Arsenal's win 3-1 over the Potters. The German pulled up in the first half and had to be replaced by Hector Bellerin, with Gabriel moving into central defence from right-back.
Mustafi has started in every game for the Gunners since moving from Valencia alongside Laurent Koscielny and will miss an important period in the Gunners' calendar, with four tough games coming up before the end of the year. The north London club did not miss the German as they managed to stifle Stoke in front of their goal, despite the Potters going ahead through a penalty by Charlie Adam.
Theo Walcott, Mesut Ozil and Alex Iwobi scored a goal each to put the game beyond doubt for the north London club, who have gone top of the league for the time being before Chelsea's game against West Bromwich Albion. Wenger said he had no idea of Mustafi's injury before the fixture and had rested him against Basel to protect him from any such incidents.
"It's a bad one. He had nothing in midweek. I would not have played him today (if he had). I had Hector Bellerin on the bench. I could have played Holding or Gabriel. He wanted to play in Basel, because he said 'no it's nothing', and it was completely clear. I checked three times and there was no problem for. I don't know why it happened, but it looks a 'good' hamstring strain," Wenger told Arsenal's official website.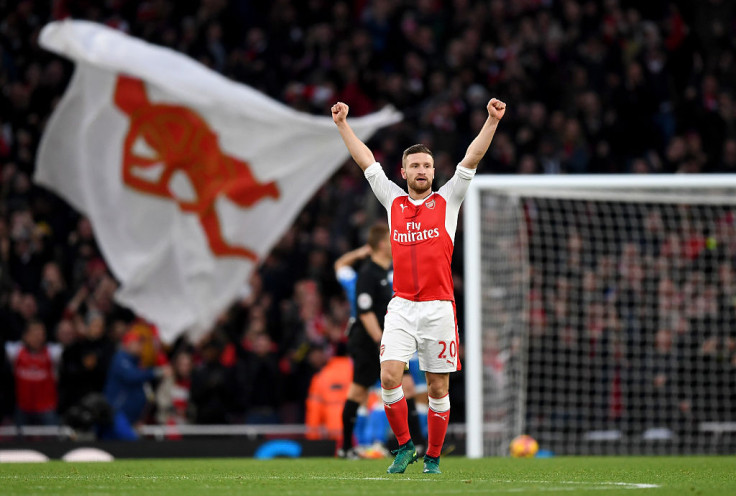 "Look, the minimum when you go out like that is 21 days. After that, today is December 10, so you are 21 days, that means he'll have a nice Christmas!" he added.
The Gunners will face Everton in midweek before travelling to the Etihad to face Manchester City within a matter of five days.