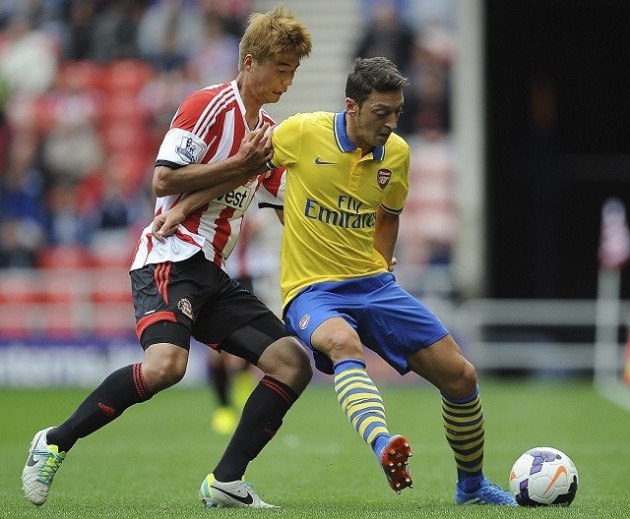 Arsene Wenger has hailed Mesut Ozil following their 2-0 win over Napoli in the Champions League.
The German scored his first goal for the Gunners as Arsenal's £42.5m summer signing ran the show at the Emirates. Olivier Giroud started the move for the first goal when he flicked on a ball onto Aaron Ramsey who picked out the German and Ozil finished with aplomb. The second goal was also started by Giroud, who made a quick interplay with Ozil and darted onto the box and was there to slot in a delightful ball from the 24-year-old German.
The Gunners were never stretched by the Italian attack and breezed through in second gear for most parts of the final half while Napoli were restricted to shots from distance. Arsene Wenger has termed this performance as among the best he has seen in an Arsenal shirt and expects the run to continue as they go forward in the season. The Frenchman believes that Ozil's inclusion has given the players at the club a massive impetus who are desperate to end their eight season trophy drought.
"I think he is like the team. He had an outstanding first half where you had everything you want to see from a great player - individual skill, team play, finishing, final ball... just sit there and enjoy it. I loved him as well in Madrid, I thought he was great in Madrid, and we are just lucky to have got him. I believe as well that he enjoys playing football and you could see that. He enjoys to play with his partners, he has integrated very quickly into the team, with the mentality. He came as well in a period where we are doing well and that maybe made it easier," Wenger told www.arsenal.com.
"We are here for that. As I told you yesterday in the press conference, there is a long way to go. But we have a good basis, we have belief, we have a good spirit, let's just focus on the next game and continue to enjoy playing together," he added on winning trophies.