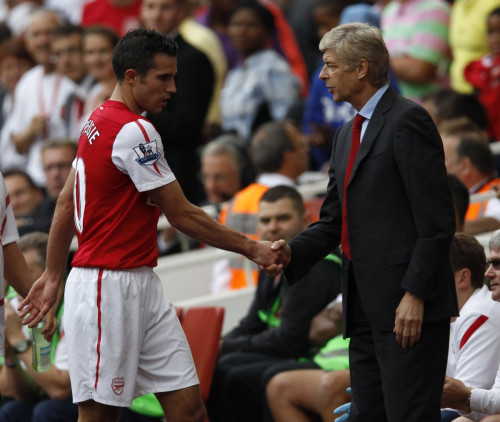 Arsenal manager Arsene Wenger has dismissed suggestions the club could re-sign Robin van Persie from Manchester United, on the eve of the Dutchman's return to north London.
Van Persie will feature for United in the Premier League clash at the Emirates Stadium on Wednesday, the fourth time he has played against the Gunners since clinching his move to the Premier League champions in the summer of 2012.
But amid United's slump this season, which sees them 15 points adrift of league leaders Chelsea and off the pace in pursuit of a Champions League place, reports at the start of February claimed that Van Persie could return to Arsenal.
With Arsenal having staged a genuine bid for the title this term after signing Mesut Ozil from Real Madrid, the proposition of playing under Wenger is significantly more attractive than it was when Van Persie departed 18 months ago.
But prior to the visit of the champions this week Wenger said of the rumours: "I don't think that's an ideal subject for us to treat today. I think it is best we don't talk about that at the moment.
"Robin van Persie is a great player, we know that. It doesn't mean he has to score [against Arsenal on Wednesday]. It depends how we defend against him."
Van Persie scored on his return to Arsenal last season in a 1-1 draw and was roundly booed by the home support. The Dutch international had the last laugh however, winning the Premier League title in his maiden season at United.
Since his departure, Ozil has taken the mantle as the fulcrum of the Arsenal attacking threat however his recent downturn in form has coincided with a run of one win in the club's last three games, with the German coming in for criticism for his showing during the 5-1 loss to Liverpool.
However Wenger said: "Mesut Ozil? He was like everybody on Saturday - he was not in a good day. There's nobody really to ostracise from that game - we are just conscious we were not good enough.
"He didn't have the best of games, but that can happen. He works very hard to adapt to the physical level of the Premier League and for me he is an exceptional player."