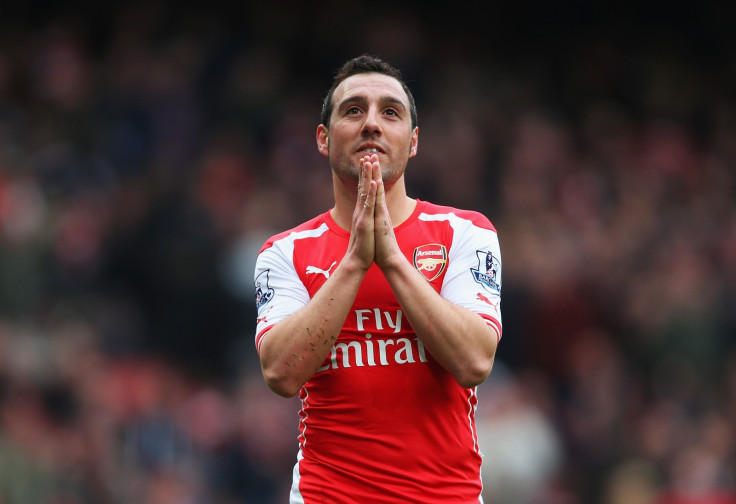 Arsene Wenger believes Santi Cazorla was Arsenal's stand-out player in the 2014/15 season, because of how he contributed to the team's overall performance rather than his individual brilliance.
The Spaniard started 50 games this season. In what was an injury ravaged campaign for the Gunners, he helped the likes of Alexis Sánchez, Mesut Özil and Aaron Ramsey fit in by letting them play their own game, while dictating play from the base of midfield.
Francis Coquelin's emergence has helped Cazorla settle into the deep lying playmaker role, which has seen Arsenal emerge as the Premiership's best team in the second half of the season. The Gunners have accumulated more points than any other team, and Wenger attributes that to Cazorla's brilliance, who is likely to start the next season in a similar position.
When asked who he believes was Arsenal's best player over the season, Wenger told Arsenal's official website, "Santi Cazorla played over 50 games and from the start to the finish he was absolutely top. But everybody has been great."
"Maybe with the quality and the consistency included from start to finish, it's Cazorla [who has stood out the most].
"He had a few games where he was unplayable. I do not look too much at his individual brilliance.
"He makes the others around him good and that's an outstanding quality for a midfielder," he added.
Arsenal have won the FA Cup for the second consecutive time in the recently concluded season, with goals from Theo Walcott, Alexis Sanchez, Per Mertesacker, and Olivier Giroud blanking Aston Villa 4-0, in a comprehensive victory for the north London club.
Sanchez was their highest goalscorer last season and is likely to miss the start of next season owing to his commitments with his national team Chile in the Copa America 2015. The Gunners will be desperate to break their title drought next season, which they haven't won since their invincible season in 2003/04.