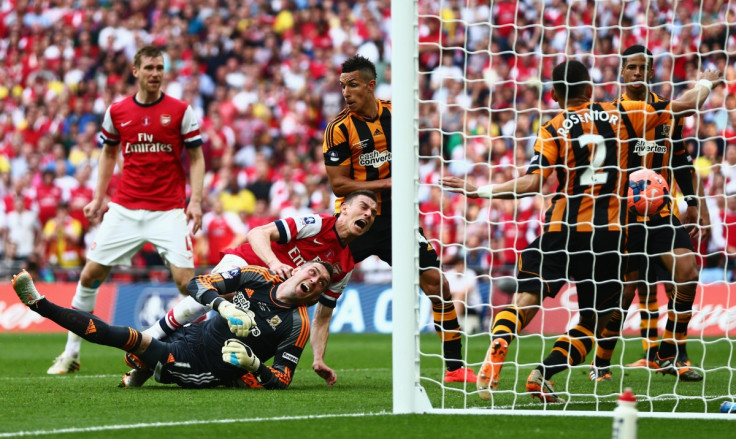 Arsene Wenger believes that his problems at the back this season is due to the lack of an English back four, and that the lack of communication between the players is posing a major problem.
The Gunners have two Frenchmen, a German and an England international as their first choice back four with Spaniard Nacho Monreal and Englishman Calum Chambers slotting in at periods, creating a complete ruckus at the back.
Wenger talked up Lee Dixon, Steve Bould, Tony Adams and Nigel Winterburn, who were in charge of defence when the Frenchman took over and insists that it is no surprise that the Gunners were a more secure unit under their supervision.
Arsenal have been conceding easy goals, with their worst display coming against Southampton where Wojciech Szczesny gifted the opposition two goals on 1 January. The confusion at the back meant that the Gunners have failed to replicate their brilliance from last season and have fallen out of the title race.
"If you look at the evolution of English football, when I arrived here, the back four was English," Wenger said.
"But they weren't only English – they communicated because they had the same culture, the same way to see the game and they were educated together.
Communication is less in the back four than before. It doesn't mean there aren't any leaders. But they don't always speak the same language or have the same way to respond to ­situations.
"We also had another defence, which nobody spoke about: Lauren, Kolo Toure, Sol Campbell and Ashley Cole. Maybe less physically fantastic, but a top back four.
"Is it a regret that I haven't managed to replicate that? Yes. But we are not that far away. We are getting there," the Arsenal manager said.
Wenger revealed that he is envious of Chelsea's setup where they have John Terry as the central figure, who organises the back four with his experience and having Gary Cahill as his England partner makes for a solid partnership.
"Terry is a coach on the pitch. He is a Tony Adams type. He organises the team. He reads the game well. You had more of that before than you have today," he concluded.