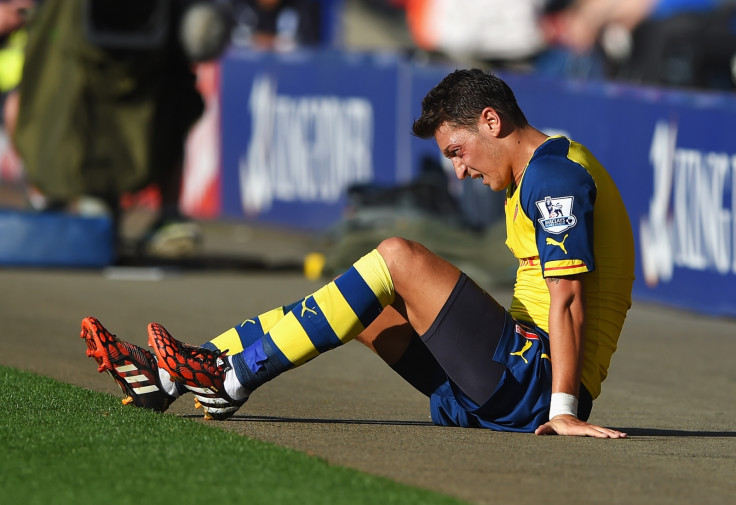 Arsene Wenger believes that Mesut Ozil will come back stronger when he returns to action this weekend against Stoke City.
The German international was out for three months with a knee injury he sustained during their game against Chelsea in October and has since been recuperating privately. 2014 has been a year to cherish for Ozil, after he won the FA Cup with Arsenal and followed that up by winning the 2014 Fifa World Cup in Brazil.
Wenger will be hoping that he can rub off some of his confidence on the team and combine to start 2015 on a high, which promises a lot for the Gunners.
The Frenchman believes that Ozil, who is often castigated for his failure to influence the game, has returned with renewed hunger after having missed football for so long. Wenger is hoping that hunger will be reflected on the pitch in the coming days.
Ozil will also face competition from Santi Cazorla for the number 10 spot, with the Spaniard showing the form of his life in recent weeks, capping his brilliance by winning the Arsenal player of the month award for December.
"When you come back having won the World Cup, even if I gave them the holiday they needed, the hunger is a bit artificial," Wenger said.
"You have to be frustrated from competition and slowly get back to realise how much you miss it to come back to normal. I had that before with players. He looks hungry – he worked extremely hard to come back. He pushed himself to the limit of what you can absorb physically.
"It is not easy for him because Santi is playing very well, it's a fight to get back to his best level. It's a frustrating season for him as he has not contributed yet. There is now an opportunity to come back and to contribute to the team," he concluded.