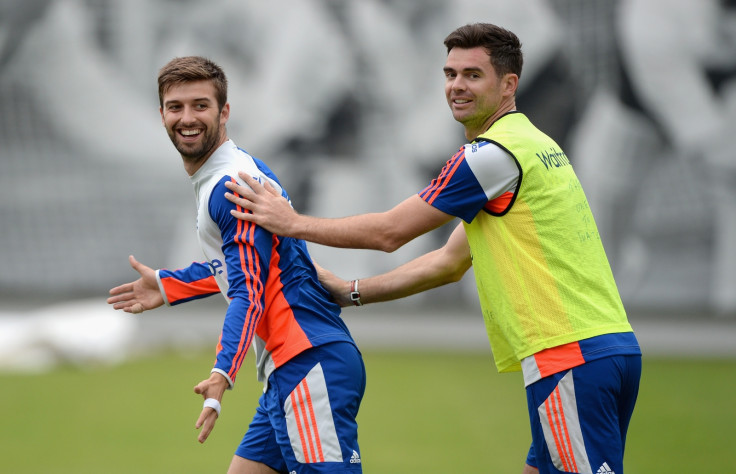 England captain Alastair Cook has confirmed that Mark Wood is in pole position to replace James Anderson for the fourth Ashes test match at Trent Bridge, while the Lancashire paceman has positive injury news of his own.
Wood has been given a painkilling injection in his ankle and taken part in training over the past three days, proving his fitness for a potentially series-clinching match against Australia in Nottingham.
With Anderson missing out after picking up a side-strain in England's eight-wicket win at Edgbaston, opener Cook has tipped Wood to seize his opportunity when coming back into the side.
"It looks really good for Woody. He seems to have come through training pretty good," Cook told the media, according to The Guardian.
"I think that's fair to say [that he's in pole position]. I thought he bowled really well at Cardiff, didn't quite get it right at Lord's, and he's looked fit and ready. Everything he's been asked to do he's come through with flying colours. He's really excited for the opportunity he's got."
Wood was replaced by Steven Finn for the third test in Birmingham, and the Middlesex seamer subsequently took eight wickets in a man-of-the-match display that made him a must-pick for the next test.
That could have ended Wood's Ashes, but the injury to Anderson has opened the door once again.
The leading wicket-taker in England history is understandably disappointed to be missing out at a ground where he's had great success in the past, but he's been going through his own training routine in an effort to be fit for the fifth and final test, starting on Thursday 20 August. The outlook appears to be positive at this early stage.
"I'm gutted to be missing out here, especially a ground I really love playing at, but it happens and I just have to crack on," he told England Cricket on Twitter.
"Hopefully I'll be fit for the Oval. I have a decent amount of time to get some rehab in and get as strong as possible and hopefully I'll make it.
"The last few days the physios and doctors have had a look at me and they are quite positive about how it's going."
Anderson has taken 53 wickets for England at an average of 19.24 in test matches at Trent Bridge, including six five-wicket hauls.