England wicketkeeper Jonny Bairstow has claimed the incident which saw him playfully headbutt Australia opener Cameron Bancroft has "been blown out of proportion".
The Yorkshireman headbutted the debutant during a night out in a bar in Perth in October, shortly after England had arrived Down Under. The incident, however, did not emerge until day four of the first Test at the Gabba when a reference to the episode was picked up by a stump microphone and later reported by Fox Sports News.
However, in the post-match conference, Bairstow insisted there had been "no malice" on his part and that the severity of the incident had been exaggerated, although he declined to offer a detailed explanation of what happened.
"I caught up with one of my friends and we went and caught up with some of the Western Australia guys after they'd just beaten Tasmania," he said.
"We were in the bar having a good laugh and a good evening out. Cameron and I enjoyed the evening and continued to do so.
"There was no intent nor malice about anything during the evening.
"As you could see out there today, there's no animosity between myself, Cameron and any other of the Australian players.Hopefully now we can swipe this underneath the table, continue what's going to be a fantastic and exciting series and we move on from there."
Bancroft also moved to defuse the situation, insisting that while Bairstow's behavior had left him puzzled, he did not feel it warranted the attention it has received amid Australia's 10-wicket win in Brisbane.
"I got into a very amicable conversation with Jonny and yeah, he just greeted me with a head-butt, kind of thing," the Australian said. "I was expecting a handshake [...] it wasn't the greeting of choice I was expecting.
"That was the way that I took it. There was certainly no malice in his actions and we continued on having very good conversations for the rest of the evening. At the time, he said sorry. For me, it was just really weird. It was so random, I didn't expect it coming. A handshake or a hug is something I would have expected more than a head-butt."
England captain Joe Root described the incident as a "mountain out of a molehill", adding the story would have seen the light of day way earlier than it did, had it been a serious incident.
"It's obviously disappointing that we have given them something to bring up but it's come up on the first day Australia have had a good one on the field, four weeks later," Root, who scored 15 and 51 in Brisbane, said. "Jonny made it very clear that there was no malicious intent. [It was] joshing about, boyish behaviour."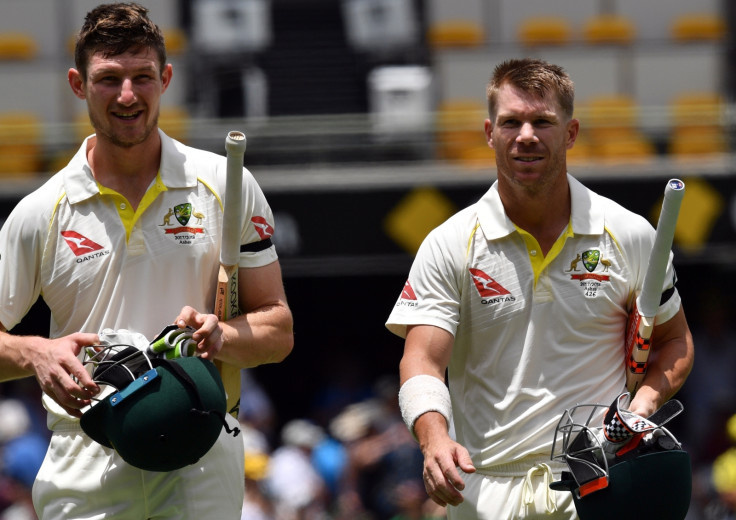 However, England coach Trevor Bayliss was less amused by the incident, particularly given England are already without Ben Stokes, who remains under investigation after being involved in a violent brawl outside a nightclub in Bristol in the early hours of 25 September. The fracas was caught on video and Stokes appeared to throw up to 15 punches in the incident that left him with a broken finger.
The all-rounder was subsequently arrested on suspicion of causing actual bodily harm and he was detained overnight and released under investigation.
Although unrelated to the investigation involving Stokes, Bairstow was one of three other players fined by the England and Wales Cricket Board and accepted formal written warnings for "unprofessional conduct" - on the same Bristol night out.
"The disappointing thing is we make dumb decisions at different times," Bayliss said.
"We've just got to be smarter and if that means not drinking then so be it."
Despite a relatively solid start to their first Ashes Test, England lost the match by 10 wickets after David Warner and Bancroft comfortably chased down the 170 runs Australia needed to preserve their outstanding record at the Gabba.
The series now moves to Adelaide, with the first ever day/night Test in the history of the Ashes kicking off at 2pm ACDT (3.30am GMT) on Saturday (2 December).