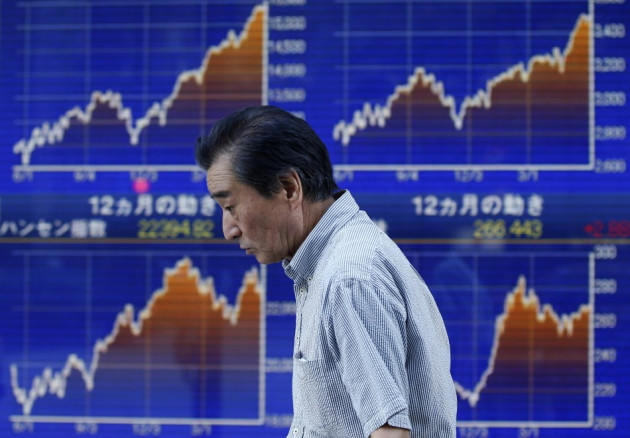 Asian markets were mixed on Tuesday, despite a rally on Wall Street, as investors worry about China's economic slowdown.
American equities rose, after data showed that factory activity in the US contracted in May, on expectations that the Federal Reserve could continue with its stimulus package. But Asian investors were largely bearish on concerns about the slowdown in China even after positive sentiments emerged from Wall Street.
The Institute for Supply Management said US manufacturing activity contracted in May, falling to its lowest level since June 2009. The news pulled down the US dollar and boosted American stocks. Wall Street gained on expectations that weak factory activity could force the Fed to push back its plans to stop buying global bonds, a key market stimulator the world over for a while now.
The Nikkei lost 1.5% or 198.85 points to 13460.67, after dropping 3.7% on Monday. China's Shanghai composite index shed 1.16% or 26.6 points to 2272.65.
South Korea's Kospi shed 0.26% or 5.1 points to 1984.46, while the Hang Seng was down 0.28% or 62.71 points to 22219.48.
Australia's S&P/ASX inched up 0.34% or 16.8 points to 4905.1. The Reserve Bank of Australia has announced its interest rate decision and has keept the key rate unchanged at 2.75%, in line with analyst expectations.
On 3 June, the Dow shot up 138.5 points to end at 15,254. The S&P 500 added 9.7 points, to close at 1,640 while the Nasdaq rose 9.5 points, to finish at 3,465.
The US dollar was trading at ¥99.82 at 2:10pm Japanese time. Companies with a large international footprint posted losses on Japanese bourses.
In Tokyo, Mazda Motor shed 3.7% while Toyota Motor lost 1%. Japanese banks, however, gained from Wall Street's highs. Sumitomo Mitsui Financial Group shot up 5.2% while Mitsubishi UFJ Financial Group rose 4.3%.
Power utility Tokyo Electric Power inched up 0.2% on a Nikkei newspaper report about how the company and 10 other Japanese firms were looking to import coal together, to take advantage of the lower transportation costs involved in bulk imports. Nippon Paper Industries and Tohoku Electric Power are a part of the proposed consortium, the newspaper said. The former's stock gained 0.8% while the latter's stock shed 0.3%.
In Sydney, Westpac Banking dropped 0.4% and Commonwealth Bank of Australia bounced back to add 0.2%
Realty stocks were down in both Hong Kong and Shanghai. In Hong Kong, China Overseas Land & Investment lost 1.1% while China Resources Land shed 0.6%.
Gemdale's stock was down 1% in Shanghai, while Oceanwide Real Estate Group shed 0.3% in Shenzhen.