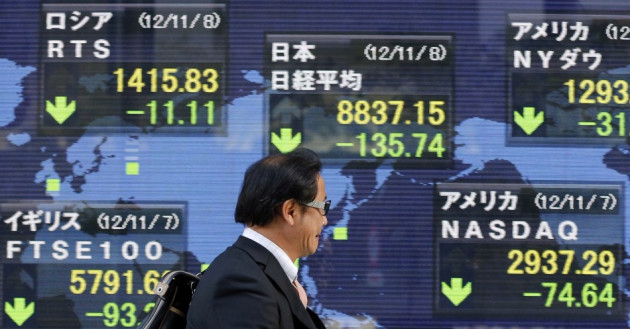 Most Asian markets have dropped as traders remain wary of the US economy and the eurozone debt crisis, but Japanese stocks have gained as the yen slumped against the dollar.
The Nikkei average gained 0.94 percent or 81.61 points to 8746.34 at 02:47 GMT while South Korea's KOSPI dropped 1.35 percent or 25.60 points to 1868.44.
China's Shanghai Composite index slipped 0.43 percent or 8.85 points to 2046.57. Hong Kong's Hang Seng traded 0.88 percent or 188.25 points lower to 21253.74.
US markets had earlier ended lower, as traders reacted to the ongoing efforts to reach a consensus on the impending "fiscal cliff". Analysts suggest that a failure to find a solution to the issue could push the country into recession.
Eurozone worries remained unabated after thousands of workers in Spain and Portugal staged a walkout and a number of them in the neighbouring countries took to the streets, to protest against the austerity measures adopted by their governments. Protests turned violent in many Spanish cities, raising further concerns of social instability in the region.
"The fears of another eurozone recession, when combined with Greece's struggle to secure fresh funding and Spain's reluctance to request a bailout deal are leaving traders with a dull headache," said Justin Harper, market strategist at IG Markets in Singapore.
Trading picked up in Tokyo as the yen dropped against the dollar after the Japanese prime minister said that the country may hold snap elections in December. Sentiments were high on speculations that the main opposition, the Liberal Democratic Party which is known to be in favour of monetary easing measures, could come to power soon.
Japanese Exporters Gain
The weak yen propelled exporter stocks in Tokyo. NEC rose 3.70 percent while Sharp extended earlier gains to climb 3.07 percent. Shares of Canon and Toshiba were up 3 and 2.64 percent.
Japanese automobiles too gained. Shares of Honda were up 3.11 percent while those of Nissan gained 2.05 percent. Toyota shares traded 2.12 percent higher despite reports that the company recalled 2.77 million faulty vehicles.
Electronics major Sony dropped 10.57 percent after the company announced plans to issue about $1.85 bn in convertible bonds.
South Korean automobile and technology firms failed to pick up. Shares of Hyundai were down 1.85 percent while those of Kia fell 0.90 percent. Samsung Electronics traded 1.70 percent lower.
Financial sector stocks traded lower in Hong Kong. Bank of Communications fell 1.82 percent while Bank of China was down 1.89 percent.
Datang Huayin Electric Power Company traded lowest in Shanghai, down 5.19 percent.