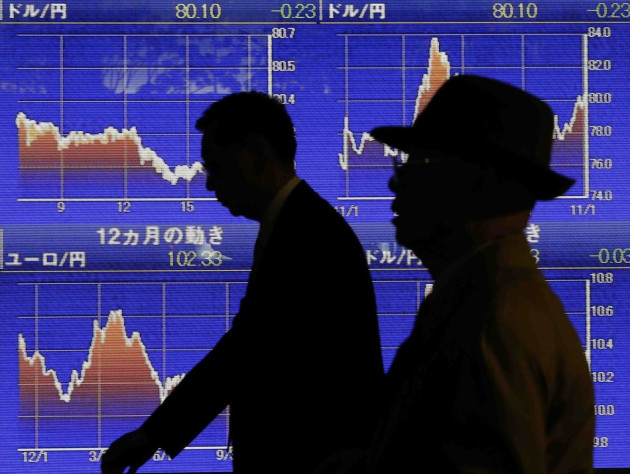 Asian stocks have advanced in morning trade as strong indicators from the world's biggest economies spurred hopes of a global recovery.
Japan's Nikkei traded 0.22 percent or 20.62 points higher to 9548.01 while South Korea's KOSPI gained 0.14 percent or 2.80 points to 1960.25. China's Shanghai Composite Index climbed 0.69 percent or 14.14 points to 2075.92. Hong Kong's Hang Seng was up 0.59 percent or 130.66 points to 22321.83.
Official data released by China's National Bureau of Statistics over the weekend showed that industrial production in the Communist nation rose 10.1 percent year-on-year in November. It is the biggest jump since March this year. Retail sales in the country too increased 14.9 percent while residential sales were up 31.6 percent, adding to hopes that the Chinese economy is on track for better performance in the final quarter of the year.
"These data reinforce our view that GDP growth will rebound strongly to 8.4% y-o-y in Q4 from 7.4% in Q3," said analysts at Nomura Research.
"Growth will likely pick up further in the coming months as leading indicators like new housing starts and new project investments rose."
But inflation firmed, with consumer prices gaining 2 percent, denting hopes of further monetary easing measures from the People's Bank of China. Export data released early in the day too disappointed as shipments grew at a weaker-than-expected rate in November.
Indicators from the United States boosted sentiments. Employment data released at the end of the previous week showed improvement in the country's labour market. The jobless rate fell 0.2 percent to 7.7 percent in November, the lowest since December 2008.
Japanese current account surplus gained in October while its third-quarter gross domestic product (GDP) remained unrevised from the initial estimate at 0.9 percent. The dollar firmed against the yen, climbing to 82.60 against the local currency from 82.44 in the previous session but easing later.
Major Movers
Advantest Corp, up 5.53 percent, and Mitsui Mining & Smelting Company, which gained 5.03 percent, were the better performers in Tokyo.
Some of the major South Korean pharmaceutical firms traded higher. Shares of Schnell Biopharmaceuticals gained 14.84 percent while those of Il Dong Pharmaceutical Company were up 14.68 percent.
Property developer China Overseas Land & Investment and metal firm Aluminum Corp of China were the major gainers in Hong Kong, up 2.38 percent and 2.10 percent. In mainland China, utility firm Huadian Energy Company traded the highest, up 10.20 percent, followed by Daheng New Epoch Technology which gained 10.09 percent.