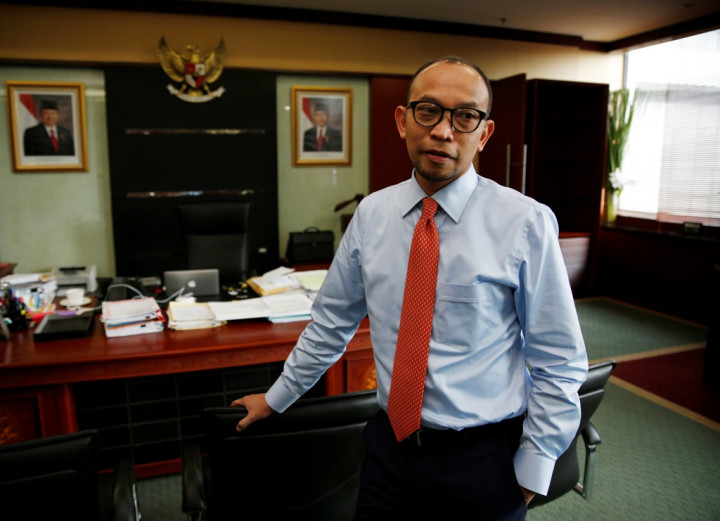 Asia's developing economies may have to forgo some growth in 2015 and focus on keeping their economies stable amid the likely fallout from higher US interest rates, Indonesia's Finance Minister Chatib Basri has said.
Capital outflows are a threat facing emerging markets as the prospect of the US central bank hiking rates attracts funds, Basri told Bloomberg.
As some of the world's fastest-growing economies adapt to changing US monetary policy, their contribution to global expansion might weaken, Basri added.
Indonesia Picture
The prospect of higher US interest rates is the single biggest challenge facing Indonesia's incoming government, Basri said. Indonesia's President-elect Joko Widodo will assume office in October.
In Indonesia, where the benchmark rate is at its highest since 2009, policy makers may have to tighten further to safeguard the nation's relative allure to investors, he said.
To ease the risk of a capital flight, Indonesia also needs to diversify its base of investors, the finance minister said. Relying more on domestic bond buyers will help, he added.
"In the short term, some emerging markets may have to choose stabilisation over growth," Basri said. "You cannot promote economic growth when dealing with this issue. It will exacerbate the situation."
"If global liquidity becomes tighter because of this tightening policy at the Fed, it will be more difficult for a country like Indonesia to get foreign financing," Basri said.
US Rates
Commerzbank Corporates & Markets said in a 19 September note: "For now, the Fed has disappointed hopes that it might change its communication.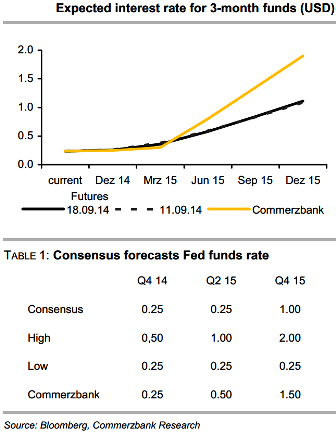 "After all, [17 September's] FOMC statement still featured the "considerable time" pledge for interest rates to remain close to zero following the end of QE. After the press conference, however, the chairwoman of the Federal Reserve Board, Janet Yellen, repeatedly stressed that markets should not interpret that wording 'mechanistically.'"
"Yellen explained that the Fed might hike interest rates more quickly if it achieved its targets faster than expected. This stronger focus back on data-driven monetary policy and therefore a more open Fed bias undermines the use of forward guidance to some extent. Markets will therefore increase their reliance on the FOMC members' assessment of the likely trend in policy rates even further.
"And here, a lot argues for the first interest-rate hike to take place at next year's June meeting. Five FOMC meetings will be held between June and December 2015. If, at each of these meetings, the policy rate were increased by another 25 basis points, the policy rate would be 1.25-1.50% by year-end. This is almost perfectly in line with the median FOMC projections (1.375%) as of end-2015," Commerzbank added.
Asia Picture
Capital Economics said in a 21 August note: ""The trend over the past year in most of Emerging Asia has been towards bigger current account surpluses or smaller deficits.
"This should make their currencies less vulnerable to any negative shifts in investor sentiment when the Fed eventually starts to tighten monetary policy. The key exception is Indonesia, where the current account deficit is likely to remain a concern."