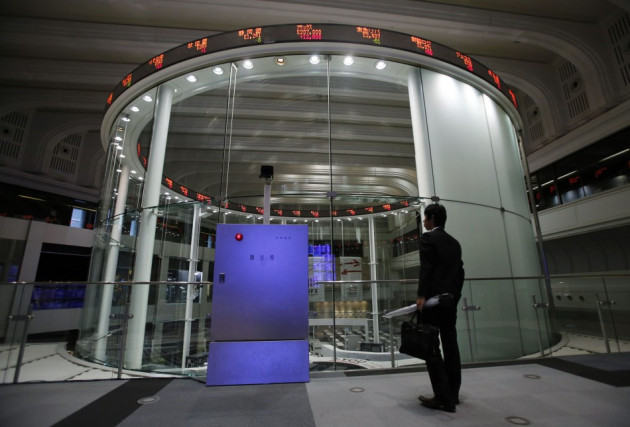 Most Asian markets opened lower after Wall Street's record-setting rally was halted by investors who traded cautiously, unclear about US monetary policy.
Hong Kong's Hang Seng was down 0.5% or 117.94 points to 23375.09 after rallying on 20 May. Japan's Nikkei average was down 0.14% or 22.16 points to 15338.65 after inching up in early trade. The Nikkei had hit a five and a half year high on 20 May.
China's Shanghai composite index dropped 0.15% or 3.4 points to 2296.60, while Australia's S&P/ASX was down 0.67% or 34.8 points to 5173.20 and South Korea's Kospi declined 0.21% or 4.12 points to 1978.31.
Wall Street ended flat on 20 May after both the Dow and the S&P 500 indices posted record highs during intraday trade.
Investors across Asia held back, ahead of US Federal Reserve Chairman Ben Bernanke's testimony to Congress, on 22 May. His testimony could provide hints on the timeline of the proposed rollback of the Fed's bond-buying programme, which has been a critical source of stimulation for global stocks for a while now.
In Hong Kong, China Construction Bank fell 1.2%. Industrial & Commercial Bank was down 1.8% after Goldman Sachs sold its residual stake in the bank for about $1.12bn.
Hengan International Group, the largest producer of baby diapers and sanitary napkins in China, lost 2.3%.
In Tokyo, wireless carrier Softbank fell 3% after the Nikkei newspaper reported it was planning a ¥400bn ($3.91bn) retail bond issuance, a record for the company.
Electronics conglomerate Toshiba gained 1.5% after the Nikkei reported it could sell a semiconductor assembly unit in China to a Taiwan-based firm.
Several exporters gained as the yen weakened, after Japan's economy minister said he hoped the yen's foreign-exchange rates would settle at levels that match up to the relative strength of the Japanese domestic economy.
In Sydney, Australia & New Zealand Banking Group losing 1.9%, while Westpac Banking was down 1.2%. Lottery and gaming firm Tatts Group lost 0.9%.