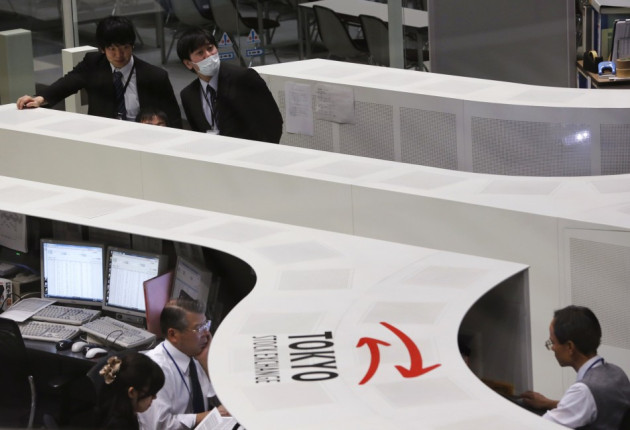 Asian markets traded higher in the morning as investors speculated on local corporate earnings reports and economic indicators ahead of US Federal Reserve's policy decision.
Japan's Nikkei average climbed 1.10 percent or 119.78 points to 10986.50 while South Korea's KOSPI rose 0.24 percent or 4.66 points to 1960.62. Australia's S&P/ASX 200 added 0.22 percent or 10.60 points to 4899.60, extending the 21-month peak.
China's Shanghai Composite Index gained 0.26 percent or 6.19 points to 2365.16 while Hong Kong's Hang Seng rose 0.98 percent or 230.78 points to 23885.95.
The stage was set for a positive session in the region after Wall Street closed higher earlier. The Fed is set to conclude its two-day policy meet later in the day and investors remain cautious on the central bank's decision, considering the recent economic improvements. US fourth-quarter gross domestic product figures are also set for release before the nonfarm payrolls data expected later this week.
"There is a possibility that Bernanke and the boys may decide to reduce the asset-purchasing programme from its current $45-billion-a-month level," said Derek McGuire, marketing executive at IG Markets in Singapore.
"And the data coming out of the US is definitely painting a much healthier picture of the economy to justify such a move".
The corporate earnings season in the world's largest economy continued to be in focus across Asia but in Japan, domestic corporate results dominated trading sentiments. Mobile service provider Softbank advanced 1.5 percent after the Nikkei daily suggested that the company could post a 10 percent improvement in operating profit.
Its competitor KDDI Corp, which had posted a 40 percent improvement in operating profit early this week, was up 1.5 percent as well. Yet another wireless carrier NTT DoCoMo was up 0.45 percent despite a Nikkei report suggesting that the company could post a 9 percent fall in operating profit.
Central Japan railway, which registered a 49 percent jump in nine-month operating profits, gained 6.32 percent. Yahoo Japan Corp climbed 15.41 percent after hiking its full year earnings forecast.
Meanwhile, data from Japan's Ministry of Economy, Trade and Industry showed that retail sales in the country gained 0.4 percent year-on-year in December, down from the 1.2 percent gain in the previous month. This was more than the 0.3 percent estimated by a Reuters analysts' poll.
The yen continued to remain weak against the dollar. The greenback hovered around the 91 yen mark.
South Korean investor sentiments were boosted after official figures showed that the country's industrial output advanced for the fourth straight month in December. Output in mining, manufacturing, gas and electricity industries gained 1 percent from the previous month, down from the 2.6 percent gain in November, but beating expectations of a contraction.