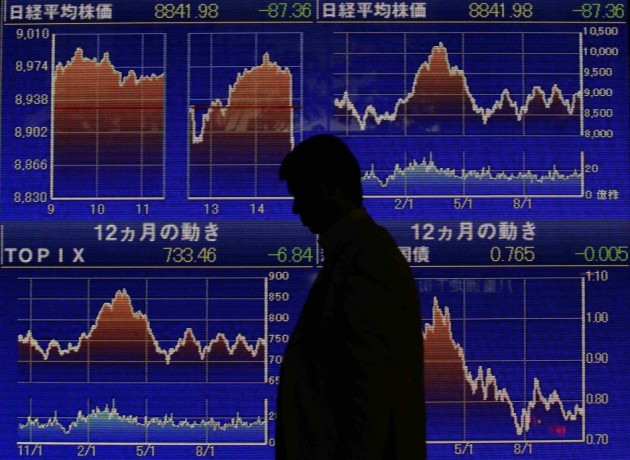 Most Asian markets went into the red as investors remained cautious due to uncertainty over the next US leadership, although reports indicate Barack Obama holds the edge in some states.
Japan's Nikkei average ended 0.36 percent or 32.29 points lower to 8975.15 while South Korea's KOSPI gained 1.05 percent or 19.95 points to 1928.17.
China's Shanghai Composite index slipped 0.38 percent or 8.03 points to 2106.00. Hong Kong's Hang Seng was down 0.28 percent or 61.97 points to 21944.43.
India's Bombay Stock Exchange Sensex traded 0.03 percent or 5.06 points lower to 18757.81 at 09:15 GMT.
The ambiguity over the US elections continued to influence investor sentiments as the race is expected to be close. Wall Street had ended the previous day with modest gains.
Traders are also concerned about a scenario where the contest could end in delayed results, and issues similar to the Bush vs Gore battle that ended in the Supreme Court in 2000.
"That is a situation global markets fear most and such uncertainty will have a big negative impact," said Cameron Peacock, market strategist at IG, told Reuters. "The best possible outcome would be for a clear and unqualified victor to emerge."
China too remained in focus. The country is set to undergo a once-in-a-decade leadership change later this week. Investors are waiting to see the new regime's policy decisions as the country's growth lags due to weak global demand.
Major Movers
Earnings related issues affected trading in Tokyo. Shares of Dainippon Screen Manufacturing Company ended 16.46 percent lower after the company posted a worse-than-expected quarterly loss of Y1.7 bn.
Shares of Asahi Glass were up 1.65 percent after the company reported better quarterly earnings. Pioneer and Nissan were down 3.87 and 2.03 percent, ahead of their quarterly earnings reports.
Toyota, which earlier reported improved earnings and raised its profit forecasts, ended 0.93 percent higher.
Chemical firm Paik Kwang Industrial and electronics company Unimo C&C were the major gainers in Seoul, up 14.91 percent each. Shares of Hyundai and Kia Motors ended 4.26 and 1.60 percent higher, reversing the previous day's losses, after both companies admitted exaggerating mileage claims in the US.
Chemical manufacturers were down in Shanghai. Nanning Chemical was down 6.81 percent while shares of Zhejiang Xinan Chemical Industrial Group were down 6.74 percent.
Export related firms were the major losers in Hong Kong. Shares of China Merchants Holdings were down 5.21 percent. Cosco Pacific dropped 2.99 percent.
Automobile shares traded lower in India. Maruti Suzuki India was down 1.65 percent while Tata Motors slipped 1.33 percent. Shares of Bajaj Auto were down 1.03 percent.