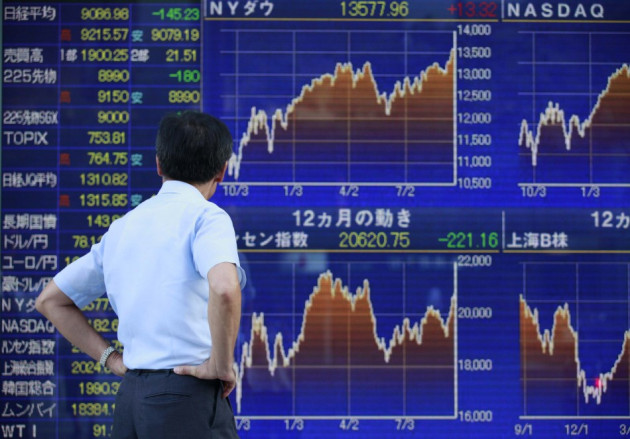 Asian markets have gained ahead of Bank of Japan's policy meet, but trading remain muted as the US markets are closed due to the super storm, Hurricane Sandy.
The Nikkei gained 0.41 percent or 36.66 points to 8966.00 at 03:21 GMT, while South Korea's KOSPI was up 0.70 percent or 13.28 points to 1904.80.
China's Shanghai Composite index gained 0.25 percent or 5.13 points to 2064.07. Hong Kong's Hang Seng index rose 0.10 percent or 20.98 points to 21532.03.
"Hurricane Sandy is blowing into the east coast and could halt trading again tonight, causing global markets to stall as they wait for the world's biggest economy to come back online," said Justin Harper, market strategist at IG Markets.
Markets in the US had suspended both floor and electronic trading on safety concerns.
Bank of Japan is expected to announce further monetary easing measures at its policy meet later in the day. Speculations are on that the central bank might boost its asset purchase scheme as the country's financial condition threatens to worsen.
Official data had showed that Japan's factory output was down more than expected in September, sliding 4.1 percent month-on-month, while the country's household spending fell 0.9 percent year-on-year in the same month.
Major Movers
Electronic major Sharp Corp gained 5.56 percent following reports that the company was in talks with Apple regarding the display business.
Some of the Japanese exporters were trading moderately higher. Camera maker Canon Inc gained 1.51 percent while Casio Computers Company rose 0.16 percent. Shares of Panasonic Corp gained 3.05 percent.
Property shares continued to slump in Hong Kong, after the city's decision to impose 15 percent tax on overseas and corporate real estate buyers. New World Development Company was down 2.32 percent while Sino Land Company and Henderson Land Development Company were down 1.46 and 1.13 percent.
Some of the major financial firms were also down. Bank of Communications slid 1.75 percent while Industrial and Commercial Bank of China was down 1.37 percent.
Beverages firm Xinjiang Yilite Industry Company and Beijing Huaye Realestate Company were the major gainers in Shanghai, up 10 and 8.10 percent respectively.
Automobile majors gained in Seoul. Kia Motors was up 2.17 percent while shares of Hyundai Motor Company gained 2.96 percent.