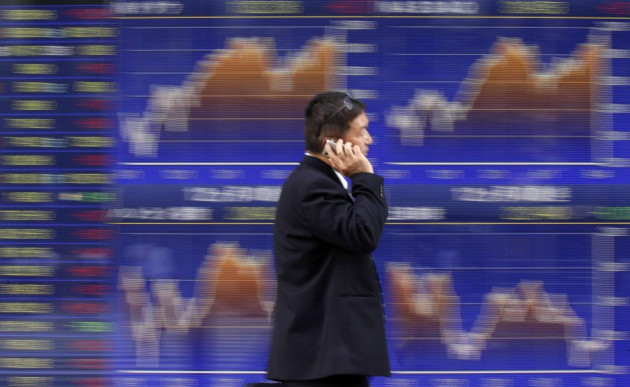 Asian markets have ended mixed as investors awaited US markets to open after the storm and Bank of Japan's monetary easing measures failed to cheer.
Japan's Nikkei ended 0.98 percent or 87.36 lower to 8841.98. South Korea's KOSPI gained 0.43 percent or 8.06 points to 1899.58.
China's Shanghai Composite index was up 0.17 percent or 3.40 points to 2062.35. Hong Kong's Hang Seng index was down 0.38 percent or 82.47 points to 21428.58.
India's Bombay Stock Exchange traded 0.91 percent or 169.69 points lower to 18466.13 at 09:08 GMT.
Japanese shares erased earlier gains and Yen strengthened against the Dollar and Euro after Bank of Japan's monetary easing measures failed to convince investors after reports of weak industrial output and household spending figures.
The central bank said that it will boost its asset purchasing programme by 11tn Yen to 91tn Yen and put in place new measures to encourage loans by banks.
"The Bank of Japan determined it is appropriate to undertake further aggressive monetary easing policies in order to prevent Japan's economy from deviating from a path of returning to sustainable growth with price stability," BoJ said in a statement.
Official data released before the monetary easing announcement had showed that the country's industrial output fell 4.1 percent month-on-month in September while household spending slumped 0.9 percent year on year.
Trading was also impacted by concerns on US as the super-storm sandy hit the world's largest economy, forcing the closure of its major stock markets. Although the immediate damage of the storm is expected to be high, analysts are of the opinion that it may not have a significant impact in the long run.
Investors in India were disappointed after the country's central bank refused to lower the benchmark interest rate, citing high inflation level of almost 8 percent.
Major Movers
Industrial shares fell the most in Tokyo. Electronics parts manufacturer Mitsumi Electric Company was down 12.02 percent while machinery manufacturer IHI Corp slid 8.79 percent. Cables maker Fujikura was down 4.64.
Automobile majors Toyota Motor Corp and Honda Motor Company were down 0.50 percent and 2.75 percent respectively. Shares of Nissan Motor Company dropped 2.54 percent.
Financial firms ended lower in Hong Kong. Industrial and Commercial Bank of China was down 1.76 percent. Bank of China and China Construction Bank slid 1.58 and 1.38 percent respectively.
Metal related stocks gained in Shanghai. Inner Mongolian Baotou Steel Union Company gained 6.96 percent. Chongqing Iron & Steel Company was up 5.19 percent. Shares of Jiangxi Copper Company were up 0.87 percent.
Industrial stocks made major gains in Seoul. Rubber products manufacturing firms DRB Holding Company and DRB Industrial Company gained 15 percent each. Shares of Sunny Electronics Corp were up 14.99 percent.
Automobile shares dropped in India. Tata Motors was down 3.39 percent. Hero Motorcorp and Maruti Suzuki India were down 2.68 and 0.57 percent.