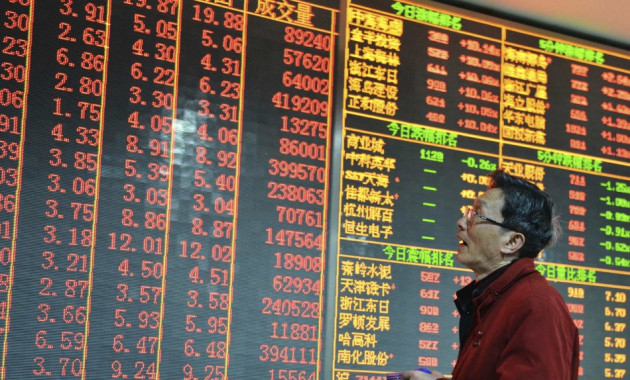 Asian stocks reported mixed trade in the morning, stymying the multi-year high-rallies of recent weeks as Bank of Japan officials meet for a two-day policy review.
The Nikkei slipped 1.03 percent or 112.40 points to 10800.90 while South Korea's KOSPI was down 0.42 percent or 8.28 points to 1979.57.
Australia's S&P/ASX was up 0.11 percent or 5.40 points to 4776.60. In China, the Shanghai Composite Index rose 0.07 percent or 1.70 points to 2318.77, while Hong Kong's Hang Seng added 0.07 percent or 1.70 points to 2318.77.
Japanese traders remain cautious as Bank of Japan's (BoJ) policy makers meet for a review over the first two days of the week, amid speculation surrounding new stimulus measures. The benchmark Nikkei index had opened 0.3 percent higher, but slid as traders booked profits from the previous week's multi-year gains. The yen showed modest strength against the dollar, with the greenback trading at about ¥89.70 after touching a 30-month high of ¥90.25 early in the day.
BoJ is under strong pressure from Japan's newly elected government to take up stimulus measures to boost Japan's economy, which is struggling due to weak external demand and stubborn deflation levels. The country's Prime Minister, Shinzo Abe has demanded that the central bank raise its inflation targets to 2 percent, and take up other aggressive monetary easing measures to shore up growth. Speculation suggests that the central bank could even resort to open ended asset purchase plans.
A strong stimulus decision from BoJ is perceived positive for the country and the region as a whole as it can increase demand. But economists have warned that any such measure should be followed up with fiscal reforms to ensure sustainability.
US economic concerns that had returned of late with debt ceiling debates eased after the Republicans indicated that they would pass a three-month extension to the borrowing limit. Wall Street had closed the previous week with gains.
Chinese market sentiments continued to remain upbeat after indicators in the previous week confirmed that the country is back on track for growth. Official data from China's National Bureau of Statistics had revealed that the world's second largest economy expanded 7.9 percent in the fourth quarter after slowing to 7.4 percent in the third.
Major Movers
Export oriented electronic stocks traded lower in Tokyo. Sharp was down 3.20 percent while Olympus slipped 2.42 percent, and Casio Computer Company fell 2.22 percent.
Some of the major South Korean exporters also traded lower. Automobile maker Hyundai was down 1.17 percent while rival Kia slipped 1.48 percent. Electronic heavy weight Samsung fell 1.28 percent.