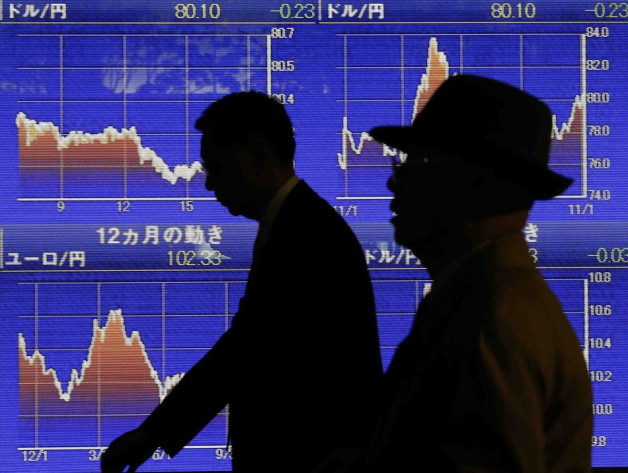 Asian markets turned into the positive territory in the morning trade as Bank of Japan adopted two percent inflation target and open ended asset purchase programme at the end of its two-day policy meeting.
The Nikkei average index jumped 0.82 percent or 88.15 points to 10835.89 while Australia's S&P/ASX 200 rose 0.18 percent or 8.80 points to 4786.30. China's Shanghai Composite Index was up 0.09 percent or 2.10 points at 2330.32.
Hong Kong's Hang Seng posted modest gains, trading 0.31 percent or 72.25 points higher to 23663.16. South Korea's KOSPI added 0.30 percent or 5.94 points to 1992.80.
The day's focus remained mostly on the Japanese developments as markets lacked cues from Wall Street, which remained closed for a holiday.
The Japanese government, which recently came to power with stimulus promises, has maintained that the central bank should take up aggressive monetary easing measures support growth. The country's economy has weakened over the recent months as the global slowdown hurt demand and inflation levels remained frustratingly low.
The yen, which has remained weak against the dollar in the recent weeks on stimulus optimism, picked up moderately during the day. The greenback traded at ¥89.26, after having touched ¥90.25 early this week. A firm dollar is perceived positive for Japanese exporters, but the local currency's extended low run has given rise to other concerns.
"While exporters and domestic firms competing with imports would benefit, there would be losers as well: a weaker yen would raise the cost of imports, notably commodities (including energy) that Japan cannot produce itself," said Julian Jessop, economist at Capital Economics.
"Further rapid declines in the yen could therefore be undesirable".
Major Movers
Some of the major Japanese exporters fell in Tokyo. Honda Motor Company was down 1.9 percent while Canon slipped 1.8 percent. Sharp Corp dropped 1.51 percent.
Financial firms traded higher in Hong Kong. Shares of Ping An Insurance Group Company of China was up 1.72 percent. AIA and Bank of China traded 1.35 and 0.27 percent higher.
In Seoul, heavyweight Samsung gained 0.96 percent while Hyundai Motor Company fell 0.24 percent